News Link • Military • www.guardian.co.uk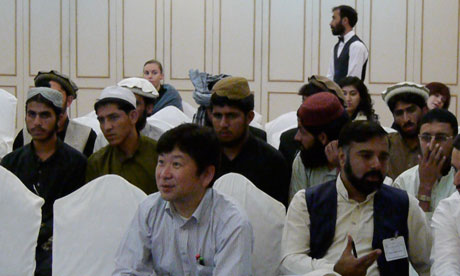 Over the last several days, numerous commentators have lamented the vastly different reactions in the US to the heinous shooting of children in Newtown, Connecticut as compared to the continuous killing of (far more) children and innocent adults by the US government in
Pakistan
and
Yemen
,
among other places
. The blogger Atrios this week
succinctly observed
:
"I do wish more people who manage to fully comprehend the broad trauma a mass shooting can have on our country would consider the consequences of a decade of war."
My Guardian colleague George Monbiot has a powerful and eloquent column this week provocatively entitled: "In the US, mass child killings are tragedies. In Pakistan, mere bug splats". He points out all the ways that Obama has made lethal US attacks in these predominantly Muslim countries not only more frequent but also more indiscriminate - "signature strikes" and "double-tap" attacks on rescuers and funerals - and then argues:
"Most of the world's media, which has rightly commemorated the children of Newtown, either ignores Obama's murders or accepts the official version that all those killed are 'militants'. The children of north-west Pakistan, it seems, are not like our children. They have no names, no pictures, no memorials of candles and flowers and teddy bears. They belong to the other: to the non-human world of bugs and grass and tissue.

"'Are we,' Obama asked on Sunday, 'prepared to say that such violence visited on our children year after year after year is somehow the price of our freedom?' It's a valid question. He should apply it to the violence he is visiting on the children of Pakistan."