NEW ORLEANS -- Power went out at the Superdome early in the third quarter of Super Bowl XLVII, leading to a 34-minute delay with the Baltimore Ravens leading the San Francisco 49ers 28-6 on Sunday night.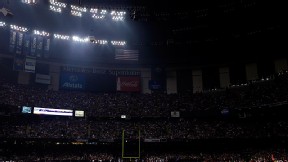 AP Photo/Marcio SanchezThe majority of lights went out in the Superdome during the Super Bowl, causing a 34-minute delay.
Police officials said too much electricity was being pumped into the 73,000-seat Superdome, causing a surge, and it took time to return power to the building.
Auxiliary power kept the playing field from going totally dark, but escalators stopped working and the concourses were only illuminated by small banks of lights tied in to emergency service.
Engineers for the Superdome and power company Entergy New Orleans are investigating what caused the surge "so it doesn't happen again," said Chad Wilken, operations manager at the Superdome.
"Power has been restored," said Eric Eagan, a Superdome spokesman. "We sincerely apologize for the incident."