Published on Jul 17, 2013 @ http://www.youtube.com/watch?v=i1AAuB5P-V0  Secure your copy — Support the Filmmakers  http://www.infowarsshop.com/State-Of-Mind-The-Psychology-Of-Control_p_1011.html
State Of Mind: The Psychology Of Control, from the creators of A Noble Lie: Oklahoma City 1995, reveals that much of what we believe to be truth is actually deliberate de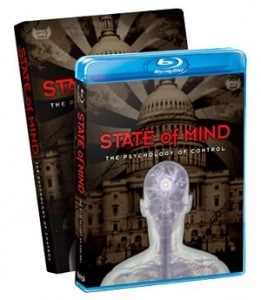 ception. The global elites are systematically implanting lies into our consciousness to erect a "tyranny over the minds of men." This film exposes the mind control methods being used to turn our once vibrant society into a land of obedient sheeple. Are we controlled? To what extent and by whom? What does it mean for humanity's future? From cradle to grave our parents, peers, institutions and society inform our values and behaviors but this process has been hijacked. State Of Mind examines the science of control that has evolved over generations to keep us firmly in place so that dictators, power brokers and corporate puppeteers may profit from our ignorance and slavery. From the anvil of compulsory schooling to media and entertainment, we are kept in perpetual bondage to the ideas that shape our actions.
State Of Mind delves into the abyss to expose the true agendas at work. This film reveals the secret manipulations at work and provides shocking and suppressed historical and current examples. From the ancient roots of the control of human behavior to its maturity in the mind control experiments of intelligence agencies and other organs of manipulation, State Of Mind reveals a plan for the future that drives home the dreadful price of our ignorance.
We are prepared for a new paradigm. Will we choose our own paths or have one selected for us? State Of Mind unveils the answers that may decide whether humankind will fulfill its destiny or be forever shackled to its own creation.
Would You Like to Know More?
History… So It Doesn't Repeat (Official HD Playlist) http://www.youtube.com/playlist?list=PLmmQ8peduhspYv4j-Cj6zppAO75vDP-_t
USEFUL LINKS
T&H dot com: http://www.TragedyandHope.com
T&H online Research & Development community: https://www.tragedyandhope.com/subscribe/
Follow on Twitter: http://twitter.com/TragedyandHope
Watch on YouTube: http://www.youtube.com/TragedyandHopeMag
Subscribe to the Peace Revolution podcast produced by T&H: http://www.PeaceRevolution.org
Like on Facebook: https://www.facebook.com/TragedyandHopeCommunications
Also on Facebook: https://www.facebook.com/theultimatehistorylesson
Screen The Ultimate History Lesson: http://www.youtube.com/playlist?list=PL463AA90FD04EC7A2
Link to Richard's brain model: https://www.tragedyandhope.com/the-brain/
ABOUT TRAGEDY AND HOPE: SUMMARY, PURPOSE, FORM, AND FUNCTION
Tragedy and Hope provides a portal through which individuals can discover, identify, and integrate useful tools, resources, and activities which stimulate and fortify Cognitive Liberty, providing primary sources, research, and educational methods which facilitate consciousness.
Tragedy and Hope's purpose is to enable individuals to research and form groups of independent thinkers to solve humanity's most pressing problems, by identifying the etiology (study of the cause-and-effect origins) and thus understanding our way toward the solutions we seek.
Tragedy and Hope's form and function (free to the public) enables hundreds-of-thousands of people around the world, to experience open-source education without upper-limits, and it is therein where the solutions are discovered- by making the problems truly known and understood at a root-cause level.
Tragedy and Hope creates, produces, and publishes educational content to help adults understand the world they live in and thereby, develop true self-confidence and serenity of mind; our content focuses on history, philosophy, economics, anthropology, science, communications, and every topic which pertains to learning how to survive and thrive in this world.
Tragedy and Hope is funded by those who tune-in to our productions, and the members of the Tragedy and Hope online critical thinking and research community, who subscribe after witnessing the value provided, and voluntarily deciding to contribute in a way to ensure we can continue producing educational media with integrity and consistency. Sacrifice the Tragedy, Preserve the Hope.
https://www.tragedyandhope.com/th-origins/
T&H: Re-Contextualizing History one Episode at a Time.