Wal-Mart Stores Inc., Target Corp. and other brick-and-mortar chains are counting on heavier discounts and a bigger online selection to help keep up with Amazon.com Inc. this holiday season.
As Black Friday ushers in the year-end shopping rush, chains are touting larger price cuts than in 2015 -- a gamble that maintaining market share is worth squeezing margins. Based on a Market Track study of holiday circulars, Wal-Mart is offering an average discount of 39 percent, compared with 35 percent last year. At Target, the price cuts grew to 38 percent from 36 percent.
"With the lines between traditional brick and mortar and e-commerce continuing to blur, the need to make a big splash during large retail events like Black Friday is significant," Traci Gregorski, senior vice president of marketing at Market Track, said in an e-mailed statement. "The ease of comparison shopping across channels is creating a situation that puts a definitive advantage in the consumers' hands."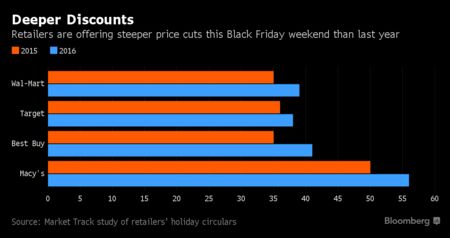 Wal-Mart and others also are steering customers toward online deals, rather than just physical stores. While the chain still offers Black Friday specials at its supercenters, the day marks the beginning of a streak of online promotions called "Cyber Week." Wal-Mart has tripled its e-commerce selection to 23 million products this year, aiming to better compete with Amazon. The world's largest retailer said in a statement Friday that Thanksgiving was one of its top online-shopping days this year and that about 70 percent of the traffic to its website came from mobile devices.