The 75th Golden Globes left the mainstream media drooling… and it left liberals eager to elect Oprah president.
Just like The Horn News first predicted in Mar. 2017, Sunday night Oprah took the next step to run against President Donald Trump for the White House in 2020.
But it's not going to work out well for the former queen of daytime television.
"She may be admired by the world, but I know the truth," Vernon Winfrey, Oprah's father, has said in the past. "So does God and so does Oprah. Two of us remain ashamed."
Of course, that didn't stop the mainstream media from bubbling over with excitement Monday.
The Huffington Post wrote an article titled, "People want Oprah to run for president." The Washington Post gushed how Oprah, "seized upon that moment and delivered a memorable speech that had plenty of people … imagining her on the 2020 campaign trail."
CNN praised Oprah's speech as well. "Oprah Winfrey didn't get to where she is by winging it. She got to where she is by smartly and strategically mapping out a path to success — time and time again," the liberal network wrote. "Her Golden Globes speech was, without question, a first step down a political path. Now we have to see if she keeps walking down it."
In fact, the liberal media frenzy grew so insane that NBC News declared Oprah "OUR future president" in a controversial tweet they later took down.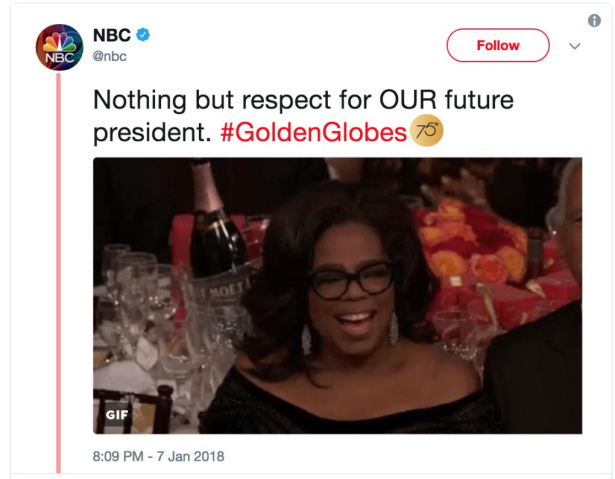 Could NBC News be right?
After all, with the backing of liberal celebrity millionaires, a literal endorsement from the mainstream media, and a fan base in the millions, Oprah seems to have it all.
But Trump supporters don't need to worry. If Oprah does decide to run for president, she'll go down.
Hard.
Because what the mainstream media isn't talking about are the secrets Oprah has been hiding. It's what Fox News called a "hidden life" in 2010 — and they're almost as damning as Hillary Clinton's skeleton-filled closet (which cost the former Secretary of State her last shot at the presidency).
Oprah, family has said, lives a secret life filled with behavior too ugly to mention. Oprah reportedly has a second-life filled with prostitution, promiscuity, hidden homosexual relationships… and worse.