(CNN)A police officer who swapped places with a female hostage during an attack by an ISIS supporter on a supermarket in southern France has died of his wounds, French authorities said.
Lt. Col. Arnaud Beltrame, 45, was shot in the neck Friday after offering to take the place of a woman during a gunman's assault on the Super U supermarket in Trèbes.
Police found two unexploded homemade bombs, a 7.65 mm pistol and a hunting knife when they searched the market after the attack, a French judicial source told CNN.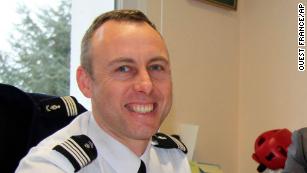 Lt. Col. Arnaud Beltrame, here in 2013, was hailed as a hero by authorities.
The attacker, Radouane Lakdim, 26, a Moroccan-born French national, was a petty criminal already on the radar of French police for his links to radical Salafist networks, authorities said.
When he burst into the supermarket Friday, he shouted he was a soldier from ISIS, witnesses said, before opening fire and killing a worker and a customer. He was shot dead by police on the scene.
"Lt. Col. Arnaud Beltrame died in the service of the nation to which he had already contributed so much," French President Emmanuel Macron said in a statement. "By giving his life to end the murderous escapade of a jihadist terrorist, he died a hero."
Interior Minister Gérard Collomb announced the officer's death Saturday, which raised the number of victims in the gunman's rampage to four.
The attacker killed two other people and wounded more than a dozen others in the supermarket raid. Before then, he had killed another person Friday while stealing a car.
"France will never forget his heroism, his bravery, his sacrifice," Collomb said on Twitter.
He 'gave his life for the freedom of the hostages'
As Friday's attack was underway, Beltrame offered to exchange himself for one of the female hostages held inside the Super U supermarket, Collomb said. He was shot while entering the market.
Beltrame had left his phone on so police could hear his interactions with the gunman, Collomb said.
As soon as they heard gunfire, police went in and killed the gunman.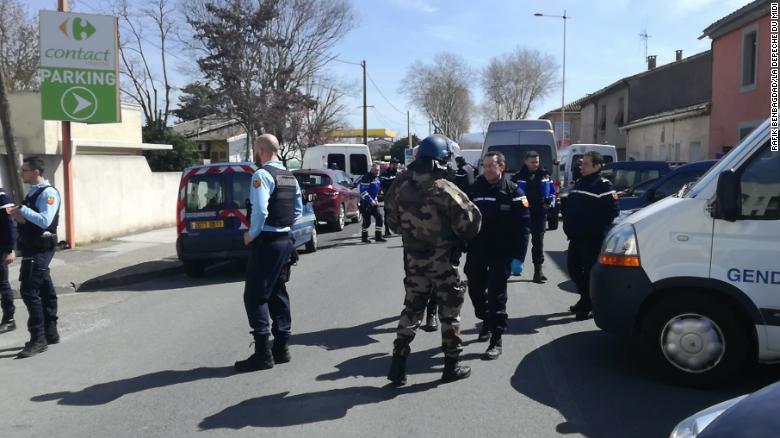 Police respond to the hostage situation Friday in the southern French town of Trèbes.
Beltrame died Friday night, police said.
"I bow to the courage, the sense of sacrifice and the exemplary nature of this officer who gave his life for the freedom of the hostages," the French National Police said on Twitter.