Well, it's official: "Japan Inc." is now "Bank of Japan Inc."
Oh, OK, not officially official, but just about. As the Nikkei Asian Review reports, the Bank of Japan (BOJ) is now a top-10 shareholder in a whopping 40% of the listed companies in the country. That's right, having purchased 25 trillion yen ($227 billion) worth of exchange-traded funds in the past eight years, Japan's central bank is now one of the top 10 shareholders in 1,446 out of 3,735 companies listed on the Tokyo Stock Exchange.
Even the banksters admit they've painted themselves into a corner with their stock buying frenzy. BOJ Governor Kuroda concedes that if the bank persists in pumping its funny money into the markets there will be serious "side effects" that could harm the entire banking sector. So they should turn off the spigot and drain the monetary swamp by raising rates, right? Nope. As BOJ board member Yutaka Harada points out, the banksters can't reverse the tide and raise interest rates because "bond and stock prices would decline and the yen would appreciate," completely negating the entire point of the asset purchases in the first place.
So what does all of this mean?
Well, if you're Japanese it means your central bank is creating (as one Japan-based asset manager puts it) "a new form of financial socialism" from which "Nobody can see a smooth exit strategy."
But more broadly, the economic pickle that Japan finds itself in right now is merely a small-scale example of the dilemma that the global economy is facing. Caught between the low interest global liquidity trap and the high interest global debt trap. Caught between the globalist "free trade" nightmare and the emerging trade war/hot war nightmare. Caught between the expansion of a predatory system that is designed to drain the wealth of the average worker and the collapse of that system, which will assuredly drain the wealth of the average worker.
The straits between these economic rocks and hard places couldn't be any narrower. It's enough to make Scylla and Charybdis look like a cakewalk.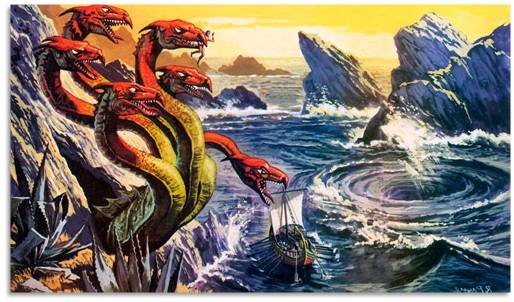 But for those who fail to comprehend the bigger picture here, it should be stressed that this isn't just about interest rates and bond yields. The point here isn't what level the stock market is at or whether some trader in Jeddah is going to be selling oil in dollars or yuan. The real point, as I have been trying to stress in this column for some time, is that economics is never just economics. The global economy rests on a monetary paradigm.