(Bloomberg) -- The appeal of a vending machine is that it delivers food you can eat on the spot, like peanut M&M's, potato chips, Oreos, or soda. Newer innovations such as the cupcake ATM and the salad-stocked Farmer's Fridge check that box, too.
Most people don't consider raw steak to be ready-to-eat, unless they're following an extreme cave man diet.
But Joshua Applestone, founder of Applestone Meat Co., sees the future in vending machines filled with strip steaks, pork chops, and Italian sausage. He's installed four of them at his four-year-old location in Stone Ridge, in Ulster County, N.Y., near the trendy town of Woodstock. Each is filled with a different type of protein: beef, pork, lamb, and ground meat and sausage. He has to restock the machines constantly to keep up with demand. Later this year, Applestone is expanding to Hudson, where the store will have at least seven machines. By early next year the company will open in Scarsdale, where he's planning for 10 machines, and later in 2019 he'll open in Manhattan, with possibly even more.
Accessibility is key to this unlikely success; customers don't have to get to the butcher shop by 7 p.m. or buy questionable leftover product from a late-night market. "We're not in the 1950s anymore, where everyone works 9 to 5 and eats at the same time every night," Applestone says of 24/7 accessibility to meat. "Life is chaotic. At best."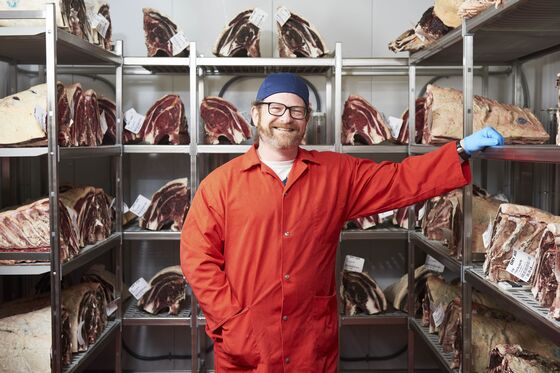 The quality of his product helps assuage concerns that might be associated with pulling a $21.99 bone-in rib-eye out of a vending machine. Before he started his namesake company, Applestone co-founded Fleishers Craft Butchery, where he helped establish the cult of whole-animal butchery that gained acclaim in such places as Brooklyn. He sold the company in 2013.