Hours after making landfall—and making history—as one of the most powerful U.S. hurricanes on record, Hurricane Michael was still a serious threat as it moved across southen Georgia on Wednesday night. As of 8 pm EDT, Michael was about 20 miles southwest of Albany, Georgia, with Category 1 sustained winds of 90 mph. Michael entered the state's southwest corner as a Category 3 storm, making it the first major hurricane in Georgia since 1898.
Michael left a trail of destruction in its wake across the central Florida Panhandle, especially along and near the coastal stretch from Panama City to Apalachicola. One death had been reported as of Wednesday evening. Mexico Beach, which encountered the worst of Michael's dangerous right-hand-side eyewall, appears to have been particularly hard hit, as was Tyndall Air Force Base, which reported "extensive damage" in a Facebook post. For more on Michael's damage, see this weather.com roundup.
Flash floods and powerful winds will remain a threat from Michael as it accelerates northeastward Wednesday night and sweeps across the Carolinas on Thursday. Tornadoes will also be a threat, especially northeast of Michael's center on Thursday across the eastern Carolinas. A tropical storm warning extended north along the Atlantic coast on Wednesday night all the way from Fernandina Beach, FL, to Duck, NC, including Palmico and Albemarle sounds.
Michael will weaken steadily tonight, but it is expected to remain a tropical storm until it moves offshore from the Virginia/North Carolina coast into the Atlantic late Thursday or early Friday. At that point, it will restrengthen while evolving into a non-tropical cyclone. A final stripe of very heavy rain could develop from southern Virginia into the Delmarva area as Michael departs.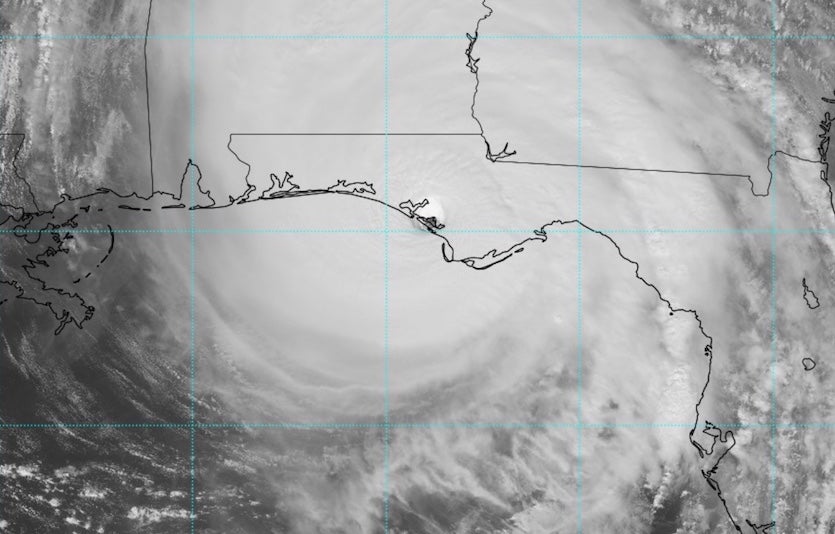 Figure 1. Visible satellite image of Hurricane Michael at 1738Z (1:38 pm EDT) Wednesday, October 10, 2018. Michael's center had come ashore around 1 pm, but the eye was still impressively clear even at this point. Image credit: tropicaltidbits.com.
Storm surge and wind reports from Michael
At 2:12 pm EDT, the storm tide at Apalachicola, FL peaked at 7.72' above high tide (Mean Higher High Water, or MHHW), which was the highest water level on record there (going back to 1967). Hurricane Dennis of 2005 (a 6.43' storm tide) held the previous record. The highest storm surge at the site (height of the water above the normal tide) was 8.53'. NHC predicted a storm surge of 8 - 14 feet for this portion of the coast.
At 2:06 pm EDT, the storm tide at Panama City, FL peaked at 5.31' above MHHW, which was the second highest water level on record. The record was 5.72' above MHHW, set on October 4, 1995 during Hurricane Opal. The highest storm surge at the site (height of the water above the normal tide) was 5.62'. Records extend back to 1973 at the site.
At 2:54 pm EDT, the storm tide at Cedar Key, FL peaked at 4.05' above MHHW, their 6th highest water level on record.