It's a sea of green in equity markets from Asia to Europe, with U.S. futures sharply higher following late Monday news of a tentative deal among American lawmakers to avert another government shutdown, while optimism about US-China trade talks rose after administration officials hinted at a meeting between Trump and Chinese President Xi "soon".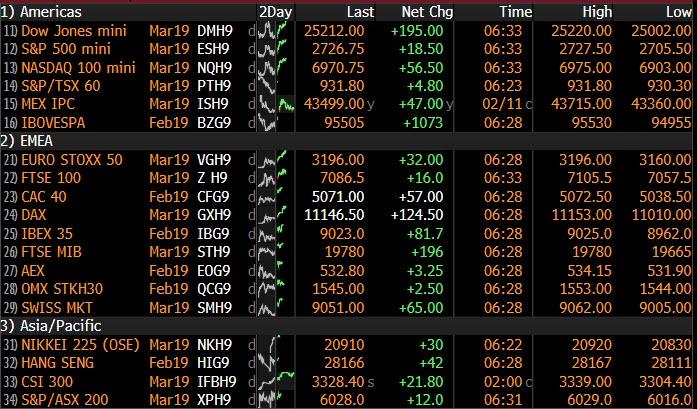 In the key overnight news, US Senator Shelby said an agreement in principle was reached on shutdown talks and that staff will work on the deal. Senator Shelby also commented that he hopes the White House will back the deal and that the border bill will have some money for a barrier, while US Rep. Lowey said staff could work out the full details of border security deal by Wednesday. US congressional aides said the tentative US border security deal provides $1.375bln to build 55 miles of border fence but does not contain any funds for a border wall and does not include Democrats' demand for capping number of immigrant detention beds
Meanwhile, President Trump said "we are going to make great deals on trade" and don't want China to have a hard time. President Trump also commented that we probably have some good news regarding border deal but added he didn't know what they meant regarding progress and affirmed the US would build the wall anyway.
All this was taken quite well by traders, and Tokyo's Nikkei set the tone with its best day of the year so far, surging 2.6% as the yen tumbled to 2018 lows, while Europe wasted little time in trying to lift the STOXX 600 back to the two-month high it set last week, led by carmakers. Germany's DAX jumped more than 1.2% after rising 1% on Monday, and Paris and Milan were up 0.8%, while London's FTSE approached a four-month peak despite ongoing Brexit uncertainty.
Earlier in Asia, MSCI's broadest index of Asia-Pacific shares outside Japan edged up 0.3%. Shanghai rose 0.7% South Korea's KOSPI climbed 0.5 percent and Australian shares gained 0.3 percent. The Nikkei rallied though, shooting up 2.6% after closing on Friday at its lowest level since early January after a market holiday on Monday. With the yen sliding again, shares of exporters such as automakers and machinery makers led the charge. Separately, Deutsche Bank noted it was 20 years since Japan cut interest rates to zero, something now standard in large parts of Europe.