Update (10 am ET): The latest batch of Brexit reports suggested that May could move ahead with holding MV3 as early as Tuesday evening...regardless if there's enough support for the deal to pass.
* * *
Update (9:20 am ET): A spokesperson for No. 10 Downing Street has confirmed that the prime minister won't call for another meaningful vote on her Brexit plan unless she can win the vote (which of course doesn't look likely), and that the government won't push for a series of indicative votes until after that issue has been decided. 
However, even with May holding out hope that her deal might be passed after the latest attempt to push her out fizzled over the weekend, it doesn't look like she'll manage to win the votes she would need to finally pass her withdrawal agreement, with the DUP saying Monday that they wouldn't support the deal if it is brought for a third vote. Asked what they believed might happen, a DUP official told BBG that May has 'no chance' of getting her deal through, and that a no-deal Brexit remained the most likely outcome (despite MPs rejecting it during an indicative vote earlier this month).
The pound has reversed an earlier bounce on the latest batch of headlines.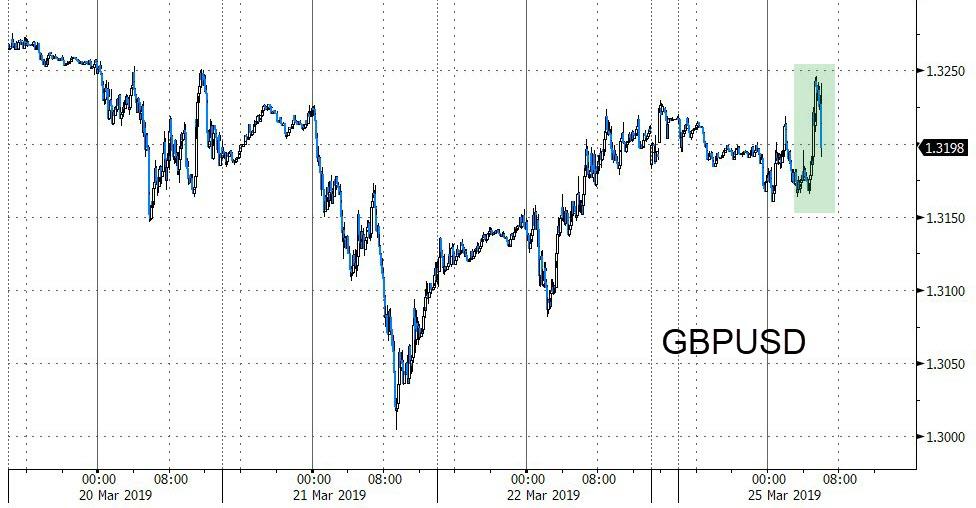 Meanwhile, the EU said Monday that it's members are prepared for the UK to exit without a deal, and that hundreds of customs specialists have been recruited to make sure any disruptions in the flow of goods doesn't last more than a few days. One EU official added that the bloc wouldn't enter into "mini-deals" to make no-deal more palatable.
Cabinet sources have told the FT that May would whip votes against the Letwin amendment, which would call for a series of indicative votes on alternatives to May's deal.
* * *
The leading Brexiteers have made a lot of noise demanding that Prime Minister Theresa May should resign. But during a hastily organized Sunday summit at Chequers, the prime minister's country house, May forced them to acknowledge a simple, if unpalatable fact: That the Tories, having already failed to oust her in a no confidence vote, have no obvious alternative for deposing May. 
Yet, in a sign that exhaustion with the interminable Brexit nightmare is swiftly setting in, the Prime Minister has reportedly decided to offer the group, which includes Boris Johnson (who penned a weepy Telegraph op-ed lambasting May and calling for the PM to step down), Jacob Rees-Mogg, Iain Duncan-Smith, Steve Baker, David Davis (the former Brexit Secretary) and others, a marginally attractive deal: Back MV3 - that is, a third meaningful vote on the withdrawal agreement (remember, the last two were defeated by historic margins) - and May will commit to resigning.