Following accusations of extortion by billionaire Jeff Bezos this year and an earlier flap over killing embarrassing stories about Donald Trump, American Media said Wednesday that it would unload the weekly imminently. A heavy debt load has put an additional burden on the company, and — despite being a staple of supermarket checkout aisles for decades — the Enquirer's circulation is sliding.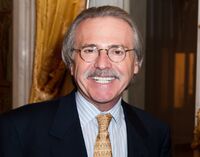 David Pecker
Photographer: Francois Durand/Getty Images
Leon Cooperman, an investor in American Media, said he believes an unspecified buyer is interested in making the deal.
If the sale goes through, it would help ease the pressure on American Media, Chief Executive Officer David Pecker and the company's hedge fund backers. Chatham Asset Management is the principal owner of the publisher, and two of the firm's executives serve on its board. Cooperman, a billionaire hedge fund manager, has said that his stake is relatively small.
Chatham, run by Anthony Melchiorre, has grown increasingly disgusted with the reporting tactics at the Enquirer and pushed for the sale, according to the Washington Post.
American Media's board conducted a review of its tabloid business, including the Globe and National Examiner brands, and decided to explore strategic options. That will "likely result in their sale in the near future," the company said on Wednesday.
"We feel the future opportunities with the tabloids can be best exploited by a different ownership," Pecker, who also serves as chairman, said in a statement.
The Enquirer and its owner have come under intense scrutiny since Bezos made his allegations in a blog post in February. Bezos accused American Media of trying to blackmail him with photos of him with a woman who wasn't his wife. He also published emails sent to his lawyer, Marty Singer, by American Media executives.
If Your Cat Vomits (Do This Every Day)Ultimate Pet Nutrition
Switch and save an average of $699. Savings make me smile.Progressive
Top U.S. Vet Reveals: The Most Dangerous Thing You're Feeding …Dr. Marty