How expensive is the S&P?   Loaded question but thanks for asking.
Macro Metrics
Here at the Global Macro Monitor, we lean toward macro metrics to get a sense of the historical valuation of the stock market and heavily discount — no, entirely dismiss — the "this time is different"  nonsense to justify an expensive market.    Macro metrics do not allow the divorce of market valuation from the economic fundamentals.
Because stocks like to go up and have risen and generated a positive return in 67 of the past 98 years since 1921, it behooves long-term investors to rarely touch their investment portfolio and go to cash or become overly defensive.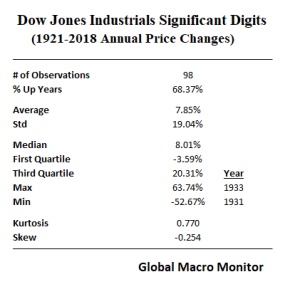 However, there are a few times in an investor's life when an extraordinary large cash position is warranted.  We believe this is one of those times.
Anybody who believes a rules-based multilateral order, our globalised economy, or even harmonious international relations, are likely to survive this conflict [U.S. v. China] is deluded. – Martin Wolf, FT
Setting aside our serious concerns about the secular shift in the global geopolitical and economic tectonic plates coupled with ugly. U.S. domestic politics, which will have very negative consequences for stocks, in our opinion, let us focus just on market valuation in the post.