ECB President Mario Draghi spoke today and was full-on dovish. The price action made that clear and the accompanying commentary providing the instant analysis was that the market heard his message and loved it. And that, of course, is the problem. There was nothing said that should make anyone feel particularly good other than traders willing to push the envelope further in paying up for any sort of yield and front-running the central bank on renewed hope for additional asset purchases.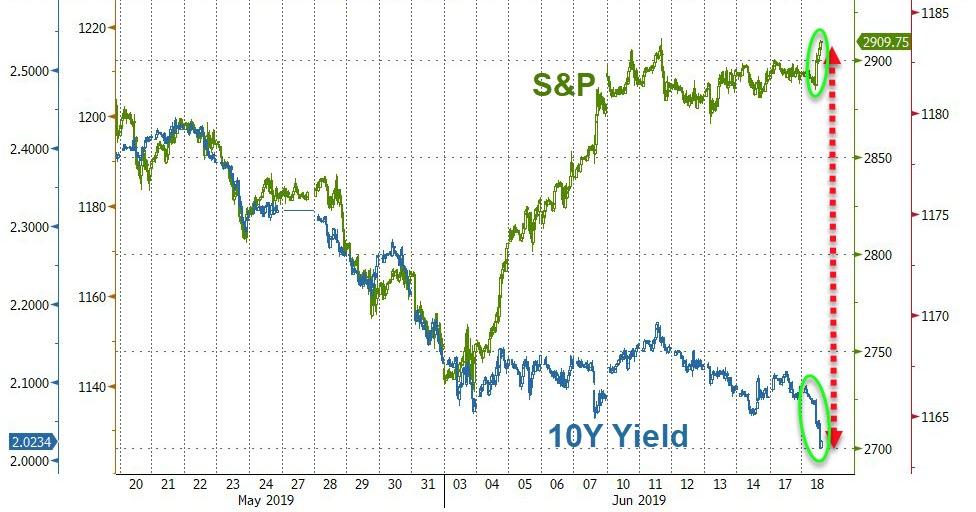 For everyone else, they will have to settle for an assessment that the risk outlook "remains tilted to the downside" and the dour expectation that more stimulus will be needed if things don't start to improve. One trader's "we stand ready, resolute and able to do more," is another citizen's "we've made some progress and don't have any new ideas so we'll plow on ahead"
And once again, anyone fooled into hedging some of the risks inherent in credit spreads, yields and equities at these startling levels will have been burned. And left agonizing over whether this will be a buy the rumor, sell the fact blow-off move or a time to totally reevaluate.
French government 10-year yields are flirting with zero. Which, ironically, has suddenly made them not as attractive compared to domestic yields for the Japanese investors who have been active and important buyers in this market on a hedged basis. Something well worth keeping an eye on. Bond markets believe in globalization.