World stocks and US index futures rebounded, even as the dollar charged to its highest in more than two years on Thursday after the Federal Reserve spoiled hopes of a run of U.S. interest rate cuts when Fed Chair Powell shocked when he said that the rate cut is a "mid-cycle adjustment" indicating it's not the start of an extended series of cuts.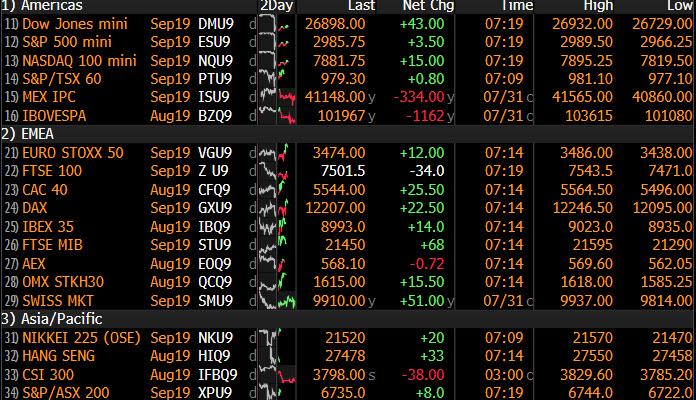 After the rate cut on Wednesday, Powell said in a press conference that the Fed's quarter-point reduction amounted to a "mid-term policy adjustment." Two Fed officials dissented to the decision, favoring no change. President Donald Trump said in a tweet "Powell let us down" with the size of the move.
While there was already a blizzard of global data and events going on, it was Fed Chair Jerome Powell's remarks on Wednesday that set the markets running - literally - with the hour that contained Powell's press conference seeing trading volumes explode to the highest level of the year; this is when Powell said the first U.S. rate cut in over a decade was "not the beginning of a long series of rate cuts" and the market tumbled.
Analyst hot takes on the Fed's decision came hot and heavy: "That's what a hawkish cut looks like,'' Morgan Stanley analysts including Ellen Zentner wrote in a note to clients. "The minimal size of the cut, the dissents, and Powell's press conference disappointed markets, and undercut our expectation."
"We believe the Fed is trying to thread the needle, balancing market jitters about slowing global growth with robust consumer spending and a strong job market in the U.S.," said Nick Maroutsos, co-head of global bonds at Janus Henderson. In other words, by cutting just 25 bps, the Fed is trying to bolster market confidence while also keeping some dry powder in reserve in case of an economic shock."
But it was the dollar's reaction said it all: the DXY index surged to the highest in more than two years, euro/dollar dropped below $1.11 for the first time since May 2017, and Brexit-hobbled sterling hit 30-month lows just above $1.21. The Bloomberg dollar index jumped to the highest since 2018 as all bank clients who had been following short dollar trade recos were carted out feet first.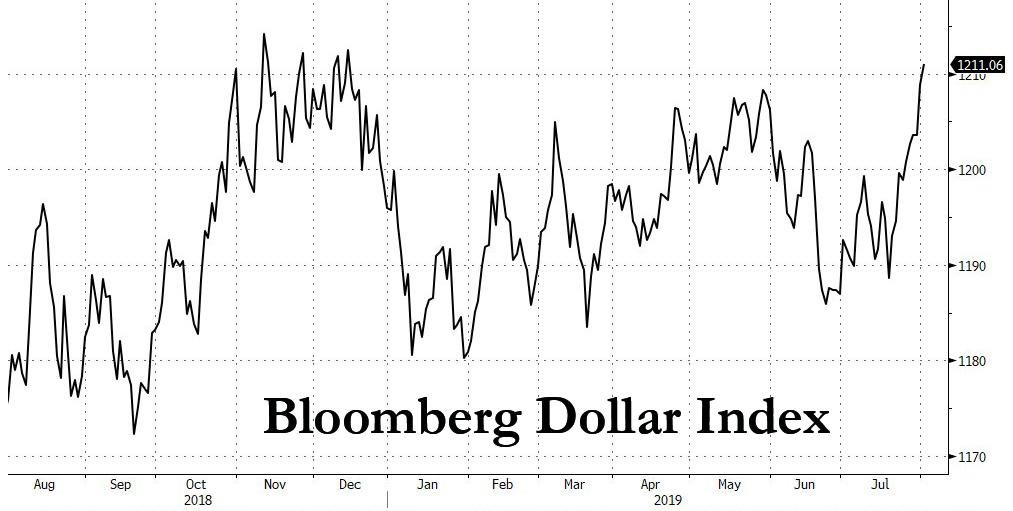 Ten-year Treasuries had rallied on Wednesday after the cut and when policy makers brought forward their plan to abandon the run-down in the bond portfolio.
"Markets interpreted the Fed's communication as slightly hawkish and therefore further rate cuts in the immediate future were somewhat priced out," said David Milleker, senior economic advisor at Union Investment. "And the dollar strengthened. All in all, the Fed did not achieve what it presumably wanted." However, perhaps sensing that they had overreacted, world stocks rebounded modestly overnight as futures for all three main U.S. stock gauges nudged higher.