IPFS News Link • FBI • https://www.zerohedge.com
In a long-awaited report released Thursday morning, the DOJ's inspector general revealed that former FBI Director James Comey's handling of the memos he took from meetings with President Trump before he was unceremoniously fired in early 2017 violated department policy and the law when he shared them with a longtime confidant, who then leaked their contents to the press.
"We conclude that Comey's retention, handling, and dissemination of certain Memos violated Department and FBI policies, and his FBI Employment Agreement," the Justice Department inspector general report states.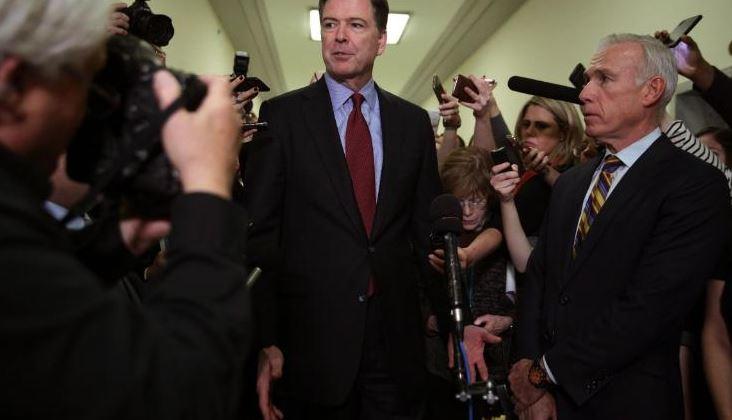 The Fox News host warned that Comey should be worried about facing the repercussions for his decision to leak the contents of the memos.
"Without a doubt...[Comey] should be sweating a lot tonight about what might be in those reports. This report is expected to be the tip of the iceberg when it comes to Jim Comey."
The IG's office had referred Comey for potential prosecution earlier this summer based on his handling of the memos, CNN reported. But the DoJ declined to bring a case, in part because prosecutors didn't believe there was evidence to show Comey knew and intended to violate laws pertaining to the handling of classified information.
Still, as Hannity said, things are "not looking good...for Mr. Super Patriot, a guy that knows better than us...we are told that the report will strongly rebuke the disgraced former FBI director, document his utter lack of candor. That means lying," Hannity said.
As an earlier media report reminded us, the Comey report is separate from a larger report about how the DoJ handled the Russia investigation, though it's still not clear why the separate report is needed.
Comey infamously took created the memos after meetings with President Trump where Trump purportedly asked him to go easy on former National Security Advisor Michael Flynn. Comey then leaked the contents of these memos to a friend through a trusted confidant, helping to spur the launch of the Russia probe.
In a series of tweets replying to the report, Comey tried to spin the report's findings, highlighting a section of the report that was favorable to his narrative.