Just one day after stocks tumbled on concerns of an imminent economic recession when the US Manufacturing ISM tumbled below 50 for the first time in 3 years, all fears appeared to evaporate this morning as U.S. stock-index futures surged, erasing almost all of yesterday's losses, boosted by hopes of a return to calm in Hong Kong combined with political developments in Italy and the U.K. S&P futures surged as much as 1% after news that Hong Kong's chief executive plans to formally withdraw the extradition bill that had sparked widespread protests.
Stocks got a further boost out of the latest development in Italy, where the FTSE MIB Index was the best performer among local European markets, up 1.7%, after Giuseppe Conte cleared the last hurdle to become prime minister, when he got backing from supporters of the Five Star Movement in an online vote. Finally, the no-deal Brexit storm appears to be passing as lawmakers in the U.K. supported moves to block Prime Minister Boris Johnson from taking the nation out of the European Union without a deal.
As a result, global stocks rose 0.4%, as Europe rallied 1.1% and after a positive session in Asia following a report showing that growth in China's service sector accelerated despite broader economic headwinds.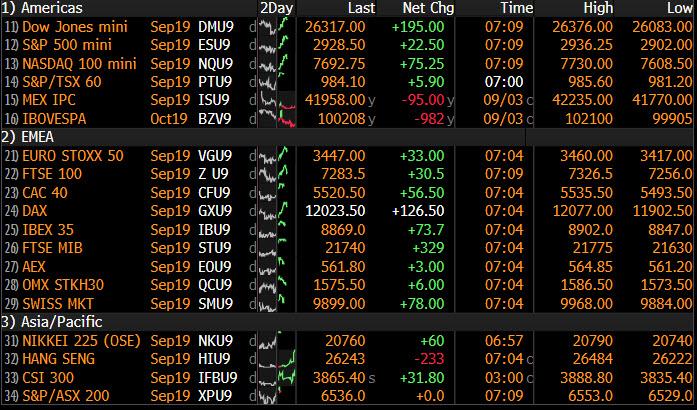 Asian equity markets eventually traded mostly higher as the headwinds from Wall Street, where the S&P 500 and DJIA snapped a 3-day win streak due to ongoing trade uncertainty and weak ISM Manufacturing, was eventually counterbalanced as data from the region provided some encouragement.
ASX 200 (-0.3%) and Nikkei 225 (+0.1%) were mixed with broad weakness seen across Australia's sectors as participants digested GDP figures which showed growth slowed to its weakest since the GFC as expected and with a cut at next month's RBA meeting seen as a coin flip.