One day after there was relatively little "trade deal optimism", overnight futures surged to new all time highs when just after 2am ET,  China's commerce ministry said - in what may well have been a trial balloon to test the White House's public response - that it had agreed with the US to roll back tariffs on each other's goods in phases as the two nations work toward a trade deal, adding fuel to a "trade deal optimism" rally that is now spanning to its fifth straight day.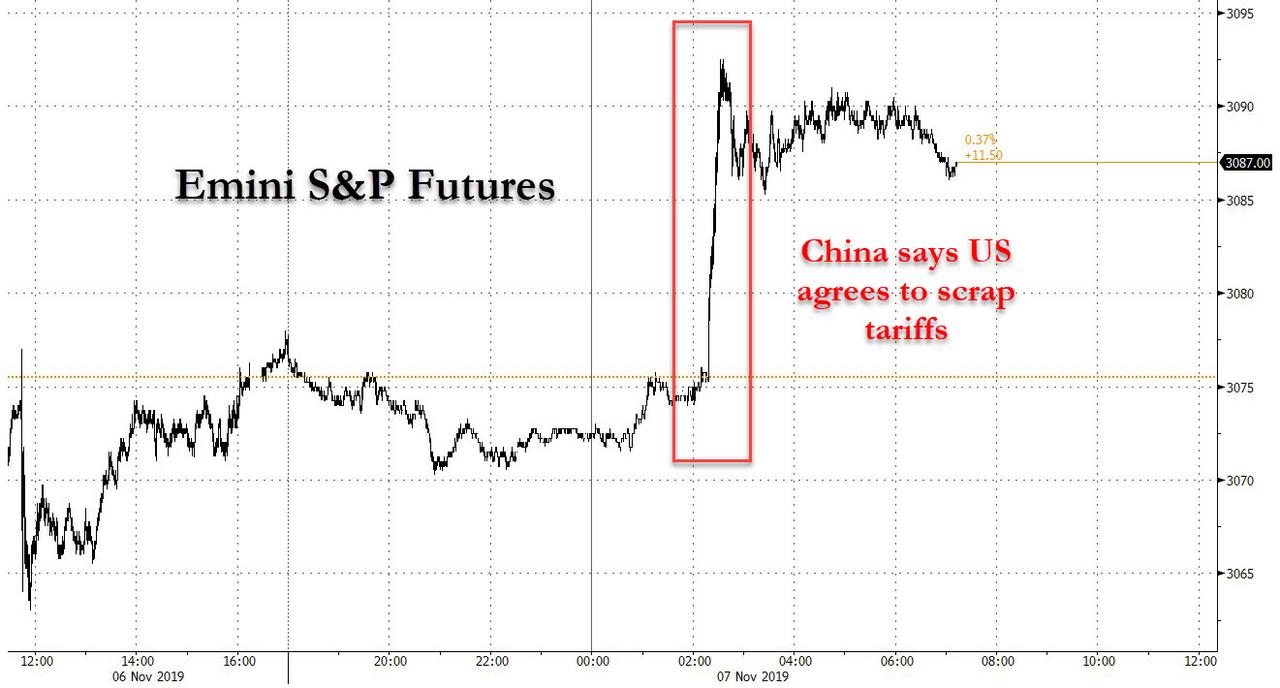 Treasuries and gold declined, while global stocks and US futures were a sea of green, even though as we noted earlier, a closer translation of China's statement actually revealed there was nothing new in it, and that futures appear to be higher on what was a mass mistranslation by the mainstream financial media!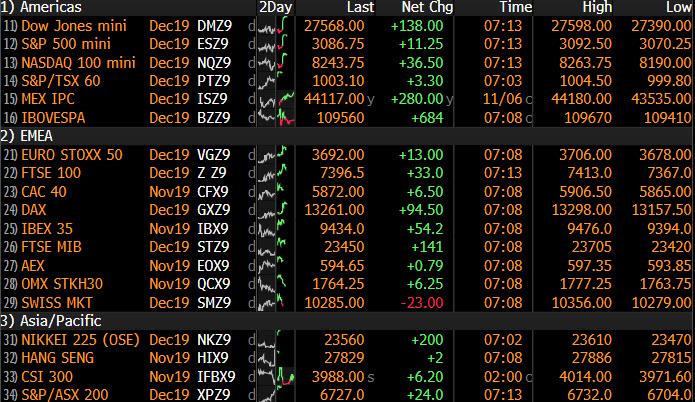 In any case, as Reuters adds, an interim U.S.-China trade deal is widely expected to include a U.S. pledge to scrap tariffs scheduled for Dec. 15 on about $156 billion worth of Chinese imports, including cell phones, laptop computers and toys. Tariff cancellation was an important condition for any agreement, ministry spokesman Gao Feng said, adding that both must simultaneously cancel some tariffs on each other's goods to reach a "phase one" trade deal. And, in an apparent act of goodwill, China also said it was studying the removal of curbs on U.S. poultry imports.
Whether or not Trump actually agreed to this will be made clear at some point today on his Twitter account. Meanwhile recall that the end to trade war is the worst possible thing that can happen to global markets and the world economy, for which "trade war" had become a convenient bogeyman for everything that was going bad.
For now, however, algos were happy to bid up risk some more, and push the S&P to fresh all time highs. Trade-sensitive industrials 3M and Caterpillar rose nearly 1% in the pre-market. Chipmakers with sizeable exposure to China, including Intel Corp, Micron and Nvidia were all up between 1.7% and 2%. Also supporting tech stocks was a 6.1% gain in Qualcomm shares after the chipmaker forecast current-quarter profit above analysts' estimates. On the other end, Roku plunged 14.5% after posting a wider net loss in the third quarter, as it spent more to attract subscribers to its video streaming platform. Twitter fell 1.4% after Evercore ISI downgraded the stock to "underperform" from "in-line."