Authored by Lance Roberts via RealInvestmentAdvice.com,
Just recently, Jeffry Bartash published an interesting article for MarketWatch.
"Like a stiff tent pole, consumers are keeping the U.S. economy propped up. And it looks like they'll have to do so for at least the next year.
Strong consumer spending has given the economy a backbone to withstand spine-tingling political fights at home and abroad. Households boosted spending by 4.6% in the spring, and nearly 3% in the summer, to offset back-to-back drops in business investment and whispered talk of recession."
That statement is correct, and considering the consumer makes up roughly 70% of economic growth, this is why you "never count the consumer out." 
The most valuable thing about the consumer is they are "financially stupid." But what would expect from a generation whose personal motto is "YOLO – You Only Live Once." 
This is why companies spend billions on social media, personal influencers, television, radio, and internet advertising. If there is an outlet where someone will watch, listen, or read, you will find ads on it. Why? Because consumers have been psychologically bred to "shop till they drop." 
As long as individuals have a paycheck, they will spend it. Give them a tax refund, they will spend it. Issue them a credit card, they will max it out. Don't believe me, then why is consumer debt at record levels?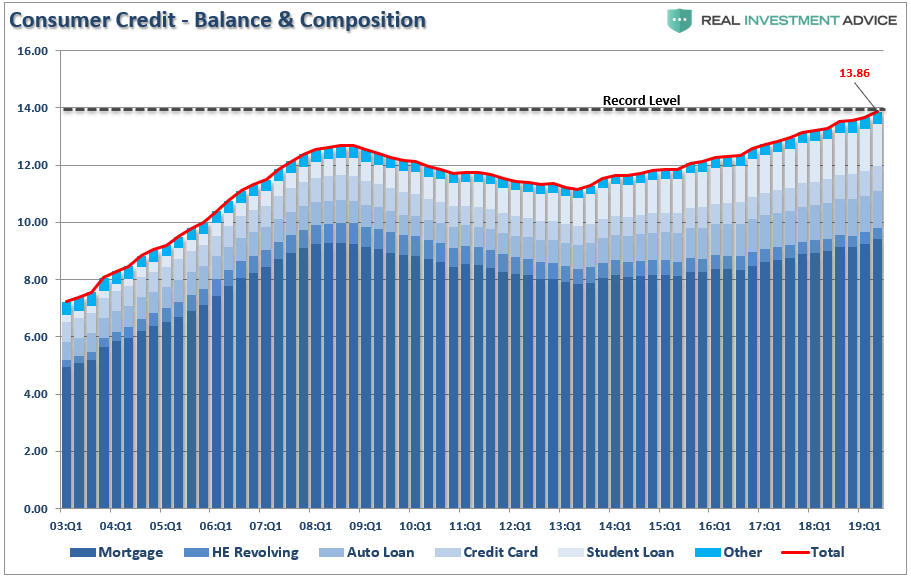 This record level of household debt is also why the Fed's measure of "Saving Rates" is entirely wrong:
"The 'gap' between the 'standard of living' and real disposable incomes is shown below. Beginning in 1990, incomes alone were no longer able to meet the standard of living so consumers turned to debt to fill the 'gap.' However, following the 'financial crisis,' even the combined levels of income and debt no longer fill the gap. Currently, there is almost a $2654 annual deficit that cannot be filled."