In the conference halls and on the sidelines of this week's Dubai Air Show there's a lot of talk about the future of flight.
But one of the most significant developments could be easily missed among the giant airliners and supersonic fighters on display.
The organisers behind an Airbus-backed electric racing series have released more details about their plans, including unveiling the first aircraft that will compete in the series.
The tiny single-seater plane is dwarfed by the aircraft around it, but Jeff Zaltman likes to think it points a way forward for aviation.
He's an American businessman behind Air Race E, a project that envisages 16 teams racing electric-powered aircraft around a circuit at up to 450 kmp (278 mph) and about 10 metres (32 ft) off the ground.
Mr Zaltman already runs a successful international aircraft competition, Air Race One, in which planes powered by traditional engines do circuits of a 5.13km oval course. It will be the template for Air Race E.
"I've no plans to halt Air Race One, but the time is right for the aviation industry to start thinking about electric racing," he said. Just as Formula E, the global electric racing car series, has helped promote the potential and acceptance of battery-powered road cars, he believes Air Race E can do a similar job in aviation.
Technology testbed
The aviation industry is in a mild panic about its carbon footprint. Having ignored its emissions problem for years, the industry sees tougher legislation coming down the line - as well as more environmental protests and a customer backlash.
Critics accused the car industry of being too slow to invest in new technologies. In comparison, the aviation industry has barely started.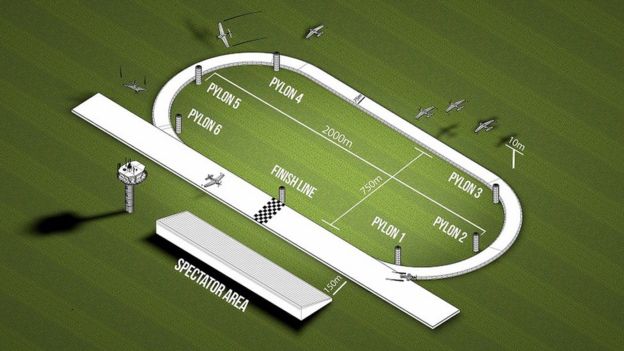 Electrification in the aviation sector is about 20 years behind the automotive industry, he said. "There's a lot of catching up to do. We are offering a platform that might help accelerate that technology," says Mr Zaltman. "Motorsport has always been a testbed for technology."