Authored by Andrew Moran via LibertyNation.com,
Is foreign policy the main issue for voters heading into 2020? For the Democratic base, the top priority is ousting President Donald Trump by any means necessary, even if that is casting a ballot for a far-left candidate or sticking with a Swamp establishment creature. While the men and women vying for the nomination squabble over minute details regarding free stuff, there seems to be a broad consensus among the presidential contenders – minus a couple – of maintaining an interventionist foreign policy.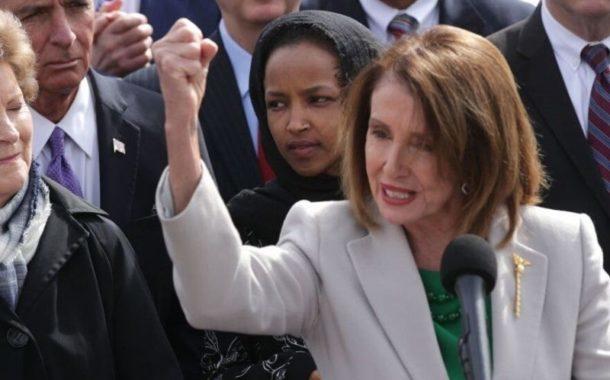 Kamala Harris
The all-female team of NBC/MSNBC debate moderators questioned Rep. Tulsi Gabbard (D-HI) and her criticism of Hillary Clinton as the "personification of the rot that has sickened the Democratic Party." Gabbard then responded that the donkeys are no longer the party "of, for, and by the people." In an obvious attempt to renew the rivalry and give her an opportunity for retribution, Sen. Kamala Harris (D-CA) was asked for her thoughts, even though it had nothing to do with Harris whatsoever.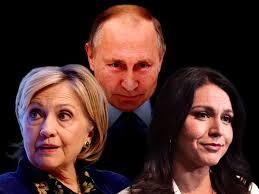 Hillary Clinton (left), Vladimir Putin, and Tulsi Gabbard (right)
While the two ladies sparring was meant to capture headlines, the quarrel and her subsequent foreign policy comments exposed Harris as someone who will inevitably continue the status quo.
Sen. Harris slammed Gabbard for appearing on Fox News and calling out former President Barack Obama and other Democrats for pushing regime change wars. This was ironic because she later spoke with a Fox News reporter following the debate. She also grieved that Gabbard and President Donald Trump are engaging with adversaries. Harris was ostensibly upset that Trump opened the dialogue with North Korean dictator Kim Jong-un and has been even more perturbed that the U.S. and South Korea ended joint military exercises in the region.
Unfortunately for Americans who value peace over war, Harris has followed other Democrats in goading Russia and North Korea. Rather than celebrate potential positive diplomatic relations with Pyongyang and Moscow, Harris has depicted the process as some odious scheme concocted by the president. Like every other mainstream politician, she wants to have her cake and eat it too. On one hand, Harris claims that she wants to remove troops from Iraq, Afghanistan, and Syria. On the other, she says that it is important to do so responsibly and to listen to the generals. In other words, expect an indefinite stay.