Authored by Lance Roberts via RealInvestmentAdvice.com,
"This is the most prosperous economy the world has ever seen and it's going to be a very prosperous economy for the next 100 years." – Jamie Dimon
That's what the head of JP Morgan Chase told viewers in a recent "60-Minutes" interview.
"The consumer, which is 70% of the U.S. economy, is quite strong. Confidence is very high. Their balance sheets are in great shape. And you see that the strength of the American consumer is driving the American economy and the global economy. And while business slowed down, my current view is that, no, it just was a slowdown, not a petering out." – Jamie Dimon
If you're in the top 1-2% of income earners, like Jamie, I am sure it feels that way.
For everyone else, not so much.
This isn't the first time that I have discussed Dimon's distorted views, and just as we discussed then, even just marginally scratching the surface on the economy and the "household balance sheet," reveals an uglier truth.
The Most Prosperous Economy
Let's start with the "most prosperous economy in the world" claim.
As we recently discussed in "Socialism Rises," 
"How did a country which was once the shining beacon of 'capitalism' become a country on the brink of 'socialism?'
Changes like these don't happen in a vacuum. It is the result of years of a burgeoning divide between the wealthy and everyone else. It is also a function of a 40-year process of capitalism morphing an entire population into 'debt slaves' to sustain economic prosperity. 
It is a myth that the economy has grown by roughly 5% since 1980. In reality, economic growth rates have been on a steady decline over the past 40 years, which has been supported by a massive push into deficit spending by consumers."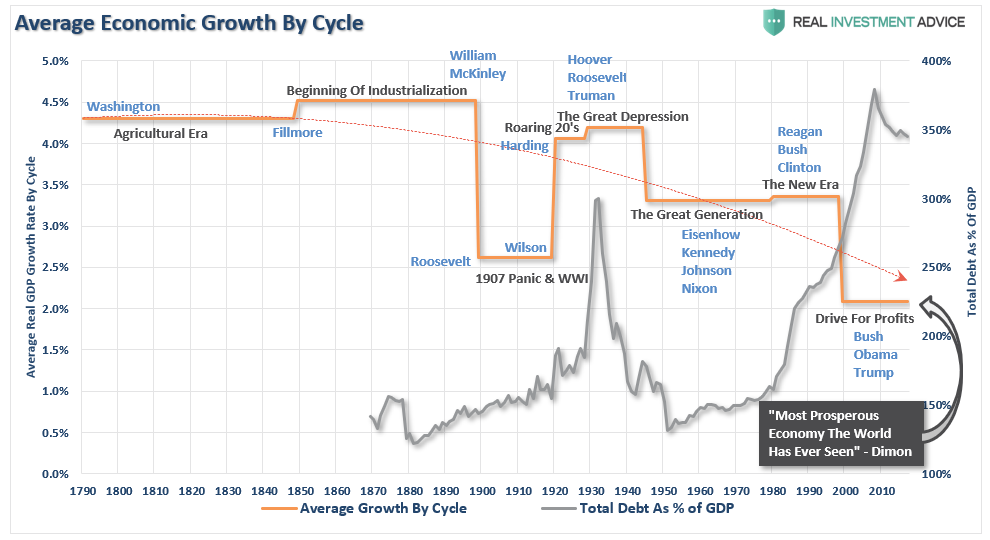 With the slowest average annual growth rate in history, it is hard to suggest the economy has been the best it has ever been.
However, if an economy is truly prosperous it should benefit the majority of economic participants, which brings us to claim about "household balance sheet" health.