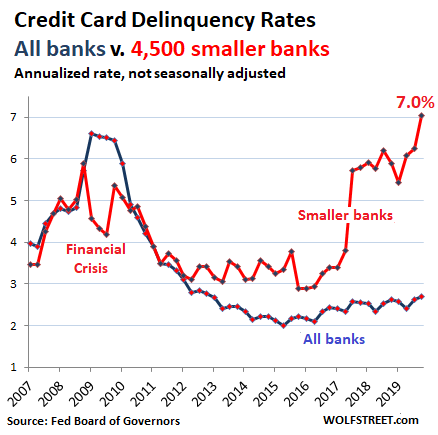 But at the largest 100 banks, the credit-card delinquency rate was 2.48%, which kept the overall credit-card delinquency rate at all commercial banks at 2.7% (blue line), though it was the highest since 2012, according to the Federal Reserve.
What's going on here, with this bifurcation of the delinquency rates and what does that tell us about consumers?
Clearly, those consumers that have obtained credit cards at the smaller banks are in a heap of trouble and are falling behind at a historically high rate. But consumers that got their credit cards at the big banks – lured by 2% cash-back offers and other benefits that are being heavily promoted to consumers with top credit scores – do not feel the pain.
A similarly disturbing trend is going on with auto loans. Seriously delinquent auto loans jumped to 4.94% of total auto loans and leases outstanding. This is higher than the delinquency rate in Q3 2010 amid the worst unemployment crisis since the Great Depression. On closer inspection, there was that bifurcation again; prime-rated loans had historically low delinquency rates; but a shocking 23% of all subprime loans were 90+ days delinquent.
During the Financial Crisis, delinquencies on credit cards and auto loans were soaring because over 10 million people had lost their jobs and they couldn't make their payments.
But these are the good times – with the unemployment rate near historic lows. And yet, there are these skyrocketing delinquency rates in the subprime subset of credit cards and auto loans. It means these people are working, and they're falling behind their debts.
Consumers with subprime credit scores (below 620) can still get credit cards, but under subprime terms – namely interest rates of 25% or 30% or more.