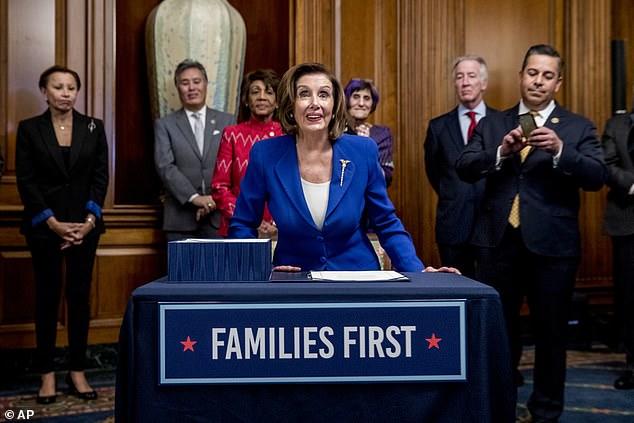 On Monday, House Speaker Nancy Pelosi unveiled Democratic demands for the phase-four coronavirus stimulus - which would include additional funds for workers on the front lines fighting coronavirus, and to keep essential businesses in operation via the Occupational Safety and Health Administration (OSHA). Democrats want to expand who's covered by OSHA protections, including grocers and TSA employees.
Pelosi's bill will also focus on infrastructure - with broadband and water resources a central focus, as well as more funds for state and local governments, paid family and medical leave, direct payments to the American public, and free treatment for coronavirus - not just free testing.
"There are infrastructure needs that our country has that directly relate to how we are proceeding with the coronavirus. Many more people are teleworking, or tele-educating or really communicating with family and friends," said Pelosi, according to te Washington Times.
In an interview Tuesday with MSNBC, Pelosi said negotiators had already agreed that "everything will be specific to the coronavirus" in the next round of legislation and that it wouldn't become a "wish list."
In an interview with the New York Times published on Monday, Pelosi indicated that another possible move was getting rid of the limit on state and local tax deductions, or SALT, that was part of the 2017 tax overhaul and affects California, Pelosi's home state, and New York. -Bloomberg (via Yahoo!)
Senate Finance Committee Chairman Chuck Grassley (R-IA) says Pelosi's SALT plan is "a nonstarter."
"Millionaires don't need a new tax break as the federal government spends trillions of dollars to fight a pandemic," said spokesman Michael Zona.