IPFS News Link • Oil • Zero Hedge - Tyler Durden
Instead, after spiking last Thursday as high as $36 as triggerhappy algos were fooled by OPEC+ jawboning, Brent is down as much as 25% in the past 4 days.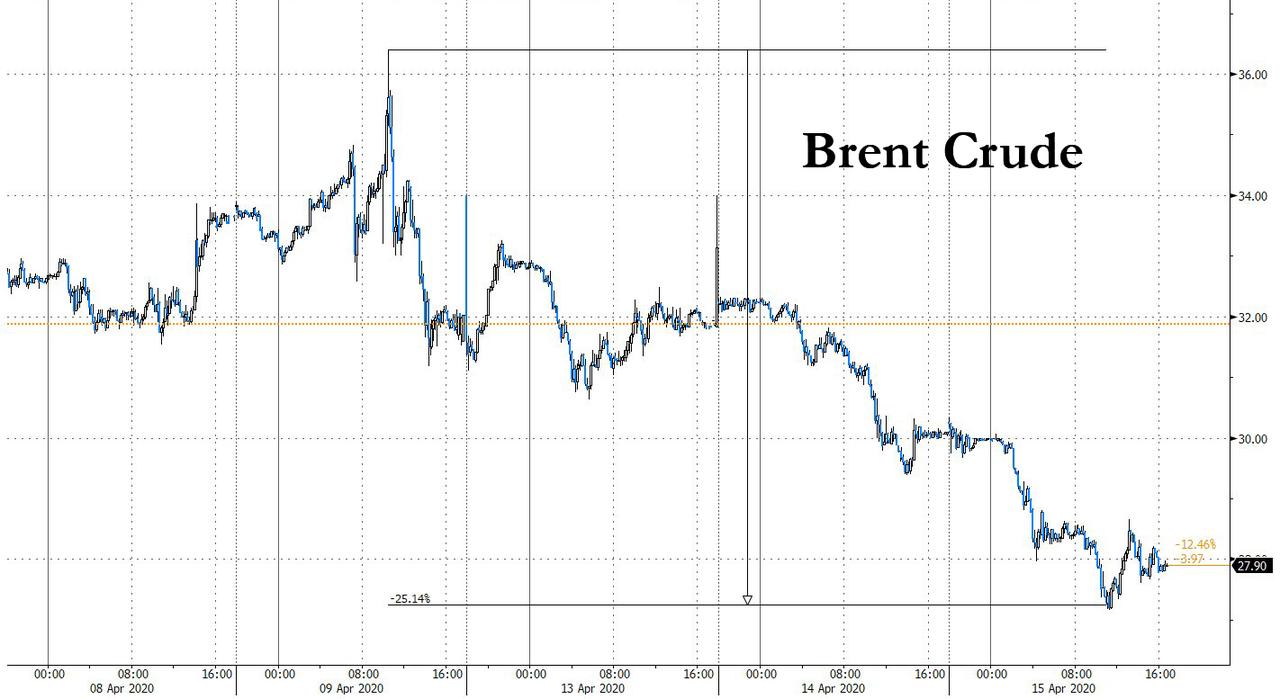 Meanwhile, realizing that the US has become ground zero for excess oil production, and is unwilling - or unable - to cut output, thus shooting itself in the foot, on Tuesday Scott Sheffield, CEO of Pioneer Natural Resources, argued that Texas can lead in producing a "real" U.S. oil production cut to save the shale industry, and called for the state to take action to force companies to hold back their production for the first time since 1973.
Alas, with billions of junk bonds at stake and a lot of private equity vested interests assuring that the "spice flows" that is unlikely to happen. So on Wednesday, with US producers seemingly at an impasse and with Trump terrified that a wave of Texas defaults could doom his reelection chances as millions of shale workers are out of a job, Bloomberg reported that the Trump administration was considering paying U.S. oil producers to leave crude in the ground to help alleviate a glut that has caused prices to plummet and pushed some drillers into bankruptcy.
According to the report, the Energy Department has drafted a plan to compensate companies for sitting on as much as 365 million barrels worth of oil reserves and counting it as part of the U.S. government's emergency stockpile. West Texas Intermediate crude oil futures rose fractionally, about 20 cents to $20.42, on the news.
Unlike previous ideas float by the administration which included ordering forced production shutdowns, this plan is actually workable as federal law gives the Energy Department authority to set aside as much as 1 billion barrels of oil for emergencies - without dictating where they should go. That creates a legal opening for storing crude outside the government's existing reserve and even blocking its extraction in the first place, according to Bloomberg.
There is just one problem: money, lots of it, and it will have to be paid to shale companies which are already on the verge of default which means that this would be seen as yet another industry bailout. Indeed, as Bloomberg explains, the keep-it-in-the-ground plan, which would require billions of dollars in appropriations from Congress, could be unprecedented and reflects a Trump administration push to help domestic drillers battered by a surge of oil production.
Of course, since "billions of dollars" would be headed to the shale sector, we doubt democrats would be excited unless of course similar billions of dollars were directed at illegal aliens or some other progressive ideal.