In fact, just a week after 17 million Americans filed for unemployment, Jeff Bezos saw his net worth increase to $138.5 billion as Amazon's stock hit all time highs on Tuesday, according to Bloomberg. The stock move was helped along by massive fiscal and monetary stimulus hitting the stock market. 
Amidst historic unemployment numbers, banks are now claiming that loan losses fueled by job cuts could rival those from the 2008 financial crisis. Among the weakest sectors cutting employees first is the very sector that Amazon has disrupted: retail. 
Bezos is among the many rich who have seen their fortunes recover as the Fed continues to focus on its sole mandate of jamming stocks higher by any means necessary. The combined net worth of the world's 500 richest people is up 20% from its low on March 23, as a result.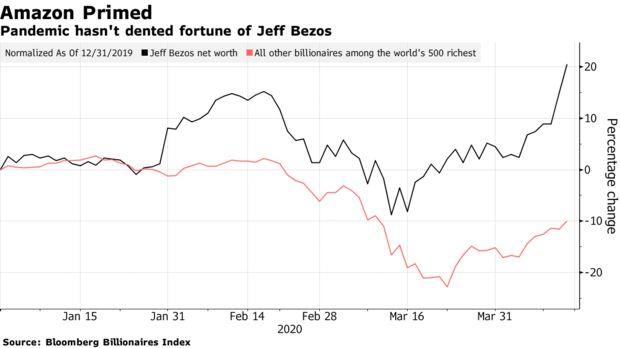 Matt Maley, chief market strategist at Miller Tabak + Co said: "The wealth gap, it's only going to get wider with what's going on now. The really wealthy people haven't had to worry. Yes, they're less wealthy, but you haven't had to worry about putting food on the table or keeping a roof over your head."
Meanwhile, corporate insiders continue to buy their own stock at a quick clip, indicating that executives believe the worst could be behind us. Carnival Corp. board member Randall Weisenburger, for example, bought $10 million of his company's stock in the open market last week.