According to research firm Czarnikow Group, the virus-induced economic downturn has led to the first year-on-year decline in global sugar consumption since 1980, when sugar prices hit a high of 45c/lb.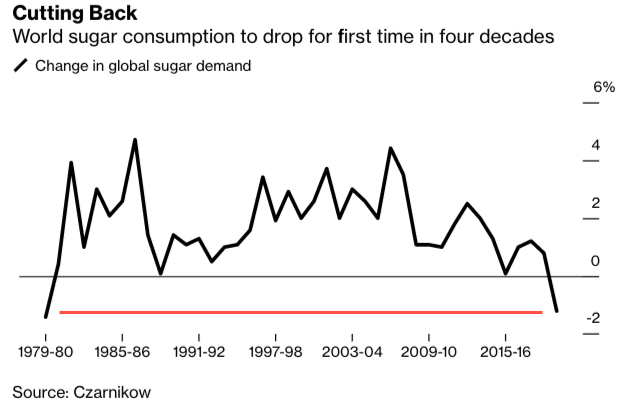 The global closure of the travel and tourism industries has been one of the most significant contributing factors behind sliding demand for sugary food products. Czarnikow wrote lockdowns have led to reduced consumption out-of-home and at-home:
"There has been a reversal of this recent trend of 1% growth each year. Due to this fall, we have reduced our consumption estimates for locations that are still under lockdown by 5%. Under lockdown, there are associated reductions in at-home-consumption due to shortages in stockists, supply chain delays, and the closure of the entertainment industry.
"This final factor is particularly important when estimating consumption patterns. This is because we believe that out-of-home sugar consumption is likely to be even more reduced than in-home sugar consumption. When people can't go to the shops, cinema, sports events, and bars, the amount of sugar – mostly in the form of sugary drinks, fast food, and treat foods – is also reduced. We can verify this by looking at soft drinks sales, which have been particularly affected by lockdowns and the reduction of social gatherings." - Czarnikow 
"Consumption out of home is normally more than what you would now substitute and have at home," Ben Seed, an analyst at Czarnikow in London, told Bloomberg. 
"If you go to the cinema, you would probably quite happily have a liter or maybe more of soda while you watch the film, whereas we just don't think people would drink a whole liter of soda while watching Netflix," Seed said.