Authored by Wolf Richter via WolfStreet.com,
I'm going to show you a chart based on data that the Atlanta Fed released today. We'll dissect it in a moment. The chart would be funny, if it weren't so serious. At first, just look at the chart superficially. These results are based on surveys of businesses of a wide variety of sizes, spread across all sectors of the economy (except agriculture and government), in all regions of the US. They're asked about their own businesses, in terms of sales, employment, and capital investment over the next 12 months. And the chart also shows how uncertain the participants are about their own expectations.
So this is about expectations for their own businesses, and about the uncertainty of their own expectations. For now, just look at the chart without analyzing it: It shows better than just about anything else what mess businesses face going forward: Their world has gone haywire.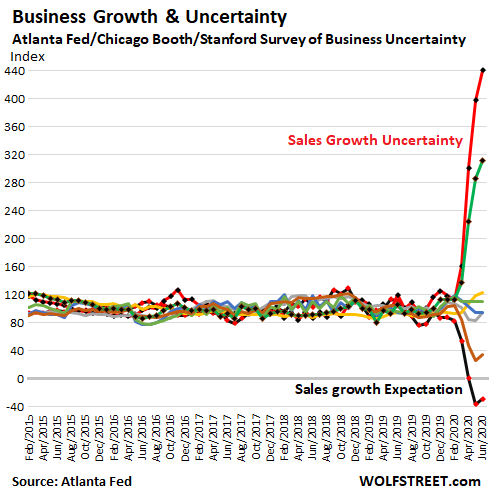 The pandemic has hit businesses differently. Some businesses have reported booms in demand because of the shifts cause by the lockdowns and other factors, and they have trouble keeping up. Other businesses are in a state of collapse or have filed for bankruptcy. And then there's every business in between. And these results are the averages of the pandemic's winners and losers combined.
Expectations of Growth and the Uncertainty of those Expectations.
There are two factors here in the Atlanta Fed/Chicago Booth/Stanford Survey of Business Uncertainty: These companies' expectations; and their uncertainty about their own expectations.