Authored by Lance Roberts via RealInvestmentAdvice.com,
Mentally, it has been a challenge to marry a market challenging all-time highs against a backdrop of weaker earnings, falling profits, surging unemployment, and a recessionary economy. Yet, here we are. While the bulls have set S&P targets to 3750 over the next 12-months while bearish signals persist. For investors it will be the difference in determining the "light" from the "train." 
As discussed in "Bulls Chant Into A Megaphone," 
"A breakout of the consolidation range, which was capped by the June highs, would put all-time highs into focus." 
Of course, we also discussed the importance of the issue of the "capitalization effect" on the market's advance, mainly since Apple and Microsoft make up such a significant weight. As noted by Sentiment Trader last week:
"The most significant stock in the U.S. and nearly the world, Apple, keeps powering higher. At the end of June, the value of Apple alone was almost 80% of the Russell 2000 index's market capitalization. As of today, it's nearly 90%. Such is astounding – in the past 40 years, no single stock has come close to dwarfing the value of so many other companies. "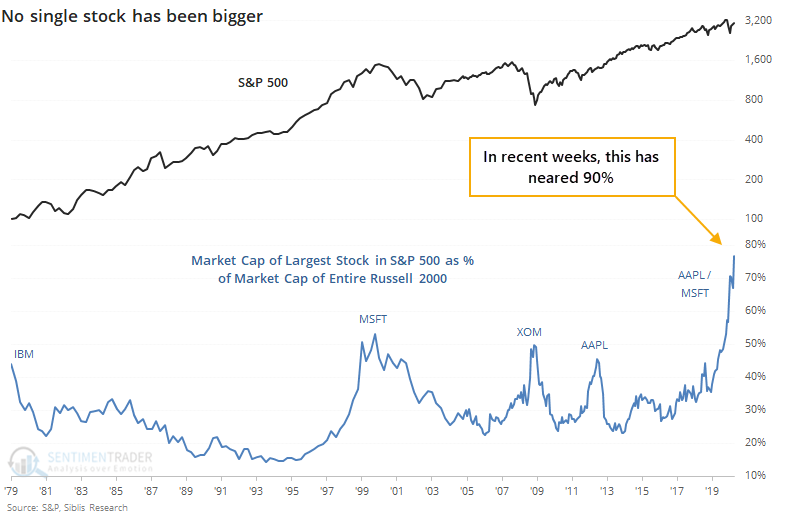 Recapping The Math
"Currently, the top-5 S&P stocks by market capitalization (AAPL, AMZN, GOOG, FB, and MSFT) make up the same amount of the S&P 500 as the bottom 394 stocks. Those same five also comprise 26% of the index alone. "