The Google-YouTube-Twitter-FaceBook axiom has risen to unprecedented power across the globe by providing the means to both disseminate and view content. There is an expression — power corrupts — but were these individuated cyber sentinels bad seeds to begin with, or did they gradually become drunk on the largesse of monopolized money?
If the recent purge of Conservative "patriot" platforms, in many cases without notice or justification, is a gauge of the hydra's character, then we might liken it to a sociopathic dictator.
SGT Report, and 14 of the other casualties, wasted no time in pursuing a federal lawsuit against Google and YouTube. On October 26 the plaintiffs launched an emergency injunction against the platforms to restore the channels they took down "illegally and criminally on October 15".  A press release from attorneys Armenta & Sol states that "Google and YouTube breached the Terms of Service and violated their First Amendment rights, when they summarily deplatformed the Plaintiffs' channels and removed their content from YouTube without advance notice".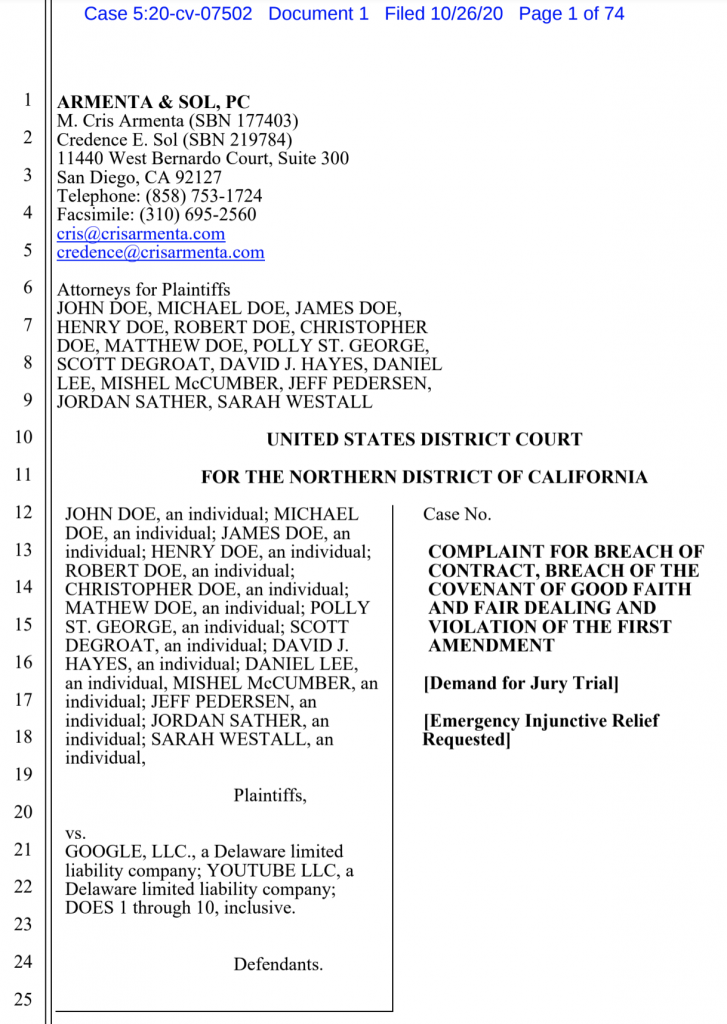 The release continues: "The Plaintiffs are the creators of YouTube channels, including JustInformed Talk, SGT Report, X22 Report, SpaceShot 76, TruReporting, RedPill78, Edge of Wonder, Praying Medic, Amazing Polly, Woke Societies, Daniel Lee, Deception Byes, InTheMatrixxx, Destroying the Illusion and Sarah Westall. Together, their news and social commentary channels have reached over 800 million views and together they had more YouTube subscribers than many legacy news channels, such as C-SPAN, The New York Times and NBC News."The first hearing is at 9AM PST on Monday, November 2, 2020. Anyone is allowed to join the zoom link to listen in on the hearing, but is not allowed to record it. Click here for zoom guidance and setup.