Forty-five million Americans are under a winter storm watch as a powerful nor'easter is slatted to batter the East Coast Wednesday into Thursday. 
NOAA NWS Weather Prediction is calling the nor'easter a "major winter storm" that will impact the Mid-Atlantic and New England Wednesday into Thursday. 
"Heavy, wet snow is expected from the central Appalachians through much of the interior Mid-Atlantic and across Long Island and southern New England," NWS said, adding that "freezing rain and ice accumulations are expected in northwest North Carolina and across much of southwest and central Virginia and into central West Virginia."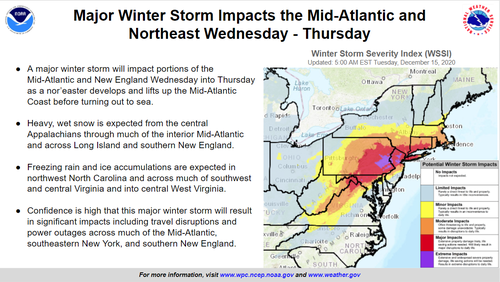 NWS said, "confidence is high" that this storm will result in "significant impacts including travel disruptions and power outages across much of the Mid-Atlantic, southeastern New York, and southern New England." 
On Tuesday, the storm system is moving out of the Rockies and will bring a wintery mix into the southern Plains before colliding with cooler air further east.