Update 935am: Well, if there was any question whether the capitulation of Melvin and Citron would end the furious short squeeze, it was answered moments ago when GME hit anew record high of $385, surpassed its premarket high before the news of Melvin covering its short broke, and is now trading well above $310. This confirms our speculation: there are many more shorts (and with a short interest at 140% of float, the reality is that there are MANY more shorts) who have to cover, and are scrambling to do so right now.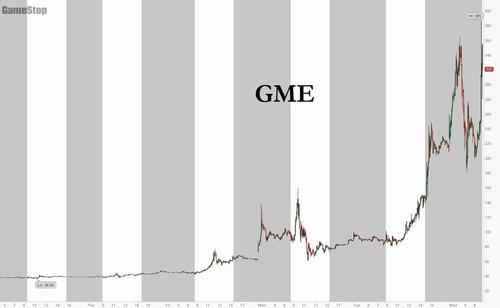 * * *
The "most-shorted" short squeeze, led by the infamous GammaStop Gamestop, continued overnight with our basket of most shorted names...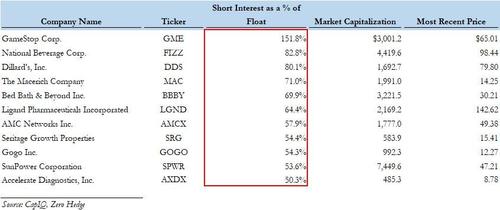 ... exploding in the early hours and pushing GME as high as a record $365...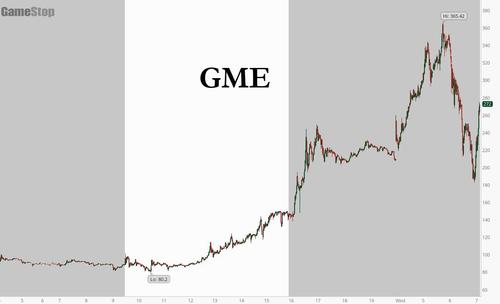 .... before the stock slumped following a report from CNBC that Melvin Capital, the nemesis of r/wallstreetbets which needed a $2.75BN bailout from Citadel and Point72 to avoid a terminal margin call, had "closed out its short position in GameStop on Tuesday afternoon after taking a huge loss" the fund's manager Gabe Plotkin told CNBC's Andrew Ross Sorkin. It was unclear what exactly this meant: did Melvin merely sell its now worthless puts, or did it also have associated GME shorts on the underlying stock? We assume both, although it could very well just be fake news and an attempt to deflect the relentless WSB army of daytraders. Until there is official confirmation from Mevlin, we should treat this information as suspect.