Editors Note: Have you ever wondered if you are fit enough to survive a natural disaster? An often-overlooked factor in survival is fitness. Your fitness level can mean the difference between life and death in many different SHTF situations.
Guest Contributor Vic Verdier shares his real-life SHTF survival story. Unfortunately, many others did not survive. Vic discusses various reasons why and what they could have done to up their chances of survival. He offers actionable points on how you, too, can up your fitness level and come out as a survivor.
Idyllic vacation quickly turns into SHTF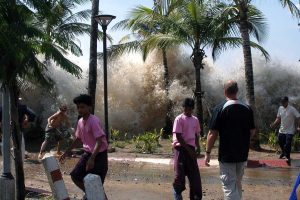 7:30 am on the day after Christmas 2004. The sun is already up in the blue sky of the Andaman Sea, and some rare tourists are walking on the main beach of Phi Phi island in Thailand. However, most tourists are still sleeping, dealing with the usual hangover from the traditional Christmas party.
The locals are busy preparing the long tail boats they use to cruise around the nearby islands. Westerners like me, who live there, fill and carry the scuba divers' tanks to explore the underwater reefs today.
In less than an hour, this idyllic landscape will turn into a dramatic nightmare. Many of those tourists will die, crushed, and drowned by the powerful wave of a tsunami coming from the Indian Ocean.
Was there a way to prevent what happened?
We can no more prevent a tsunami than we can an earthquake in California or a hurricane in Florida.