SpaceX CRS-4 launch photo courtesy of SpaceX.

Space travel is a funny thing. It's the only form of transportation where it is considered perfectly acceptable to throw away your vehicle after every flight. That's a big part of the reason it's so expensive. Imagine having to build a new jumbo jet for every transcontinental flight. Tickets would be astronomical, and available only to a few wealthy individuals and government employees.
Obviously this is no way to run a railroad, at least not if you want your railroad to open up new frontiers for business and settlement.
That's why Elon Musk, running Space Exploration Technologies, or SpaceX, has made it his mission to build reusable rockets and spacecraft. That he is competing against conventional "expandable" vehicles for things like satellite launches and space station resupply means that he stands to make a killing if he can crack this particular nut.
SpaceX already has lower launch costs than its competitors. If it can recover and reuse even some of its hardware after a flight, and do so for less money than it would take to build new hardware, than it can lower its prices even more—potentially making everyone else scramble to build reusable systems of their own.
In that case we could be looking at an iPhone-type event, with the advent of a new standard by which all competing systems are measured. Remember the BlackBerry's mass of buttons, the reason for its name? Just looking at it made my head hurt. That's why I shelled out 400 bucks for the first Apple iPhone. Now every smartphone on the market looks and feels like an iPhone, and former market ruler BlackBerry is in a fight for survival.
On Friday, December 19, SpaceX will attempt a big leap toward reusable rockets with the launch of its fifth official cargo supply run to the International Space Station, dubbed by NASA CRS-5.
This will be SpaceX's sixth flight the space station (the first was a test flight), and it may be the first to make use of a reusable rocket.
After dropping from the second stage of the two-stage Falcon 9 rocket, the first stage will relight three of its nine engines to slow its reentry into the atmosphere. It will then deploy the "hypersonic grid fins" pictured on Musk's tweet below to help stabilize its flight.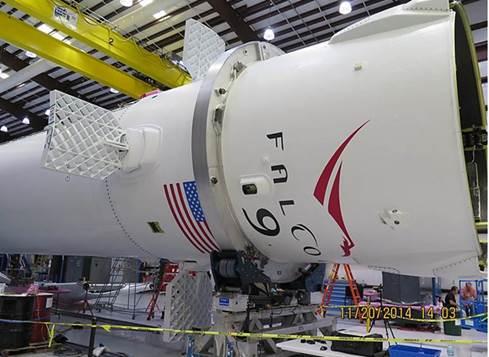 Testing operation of hypersonic grid fins (x-wing config) going on next flight
Next, it will fire the center engine and then deploy landing legs to, if all goes well, touch down gently on the "autonomous spaceport drone ship" pictured below.
Autonomous spaceport drone ship. Thrusters repurposed from deep sea oil rigs hold position within 3m even in a storm.
SpaceX has made two successful soft touchdowns following orbital missions so far, but this will be the first on a stable platform and the first with a reasonable expectation of recovery for future reuse. Musk puts the chances of success this first time out at 50-50. But his company will try, try, try again in the coming year until it succeeds in recovering first stages for later flight.
SpaceX competitors, you have been warned.
I'll be on Minnesota Public Radio talking about the mission today from 9am Central Time until 9:40am. Listen live at http://minnesota.publicradio.org/.
You can watch an animation of Friday's booster launch and landing by Kerbal Space Program at http://youtu.be/PXv-6i7aJT0.
See an excellent infographic of the launch and landing by John Gardi and Jon Ross at http://justatinker.com/Future/index.html.
And you catch watch live coverage of the CRS-5 launch from Cape Canaveral, Florida, scheduled for December 19 at 1:22pm ET, on NASA TV.