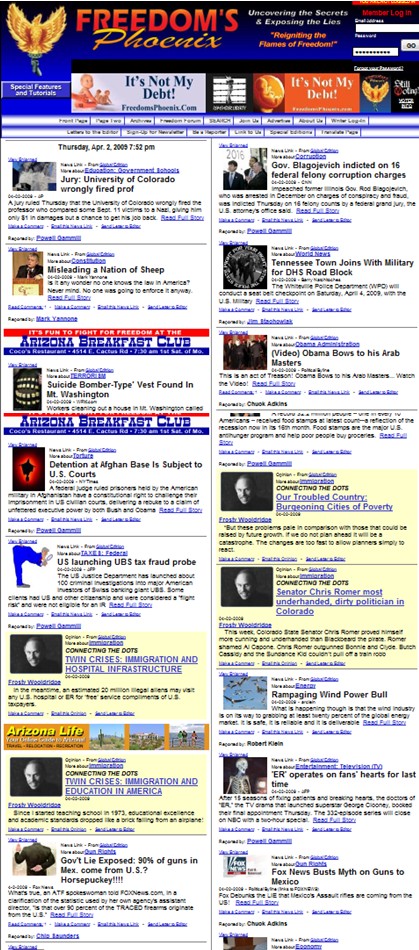 FreedomsPhoenix.com is YOUR portal to reaching those individuals dedicated to promoting and advancing the cause of human freedom. To that end, FreedomsPhoenix.com highlights news and editorial writers who have demonstrated their effectiveness in presenting the intellectual case for freedom, while exposing the hypnotic trance of the overlords.
FreedomsPhoenix.com website offers a highly distinguished assortment of the best, brightest, and most entertaining people in the freedom movement today! It's stimulating daily update provides you, the advertiser, with a method to reach these movers and shakers in the Freedom movement. We offer you two many methods to reach our visitors. You can choose to advertise on our website. We also offer advertising in an exclusive opt in list list of subscribers involved who receive their daily dose of Freedom in their inbox. FreedomsPhoenix also offers a Radio broadcast where you can deliver a message to our visitors with a professional voiceover.
FreedomsPhoenix.com offers other exclusive services for you to reach your target audience with Professional Video Production either in our beautiful studio or on-site. We offer top level video editing and production in HD at prices that will make the competition gasp!
FreedomsPhoenix.com allows you the ability to Master your own DVD's as well as the ability to reproduce those DVD's on our 3 - 11 stack DVD burners. We have the capability to burn 300 DVD's per hour and turn around 5,000 to 50,000 DVD's in a matter of days! This is a great way for advertisers and other freedom organizations to get important information into the hands of your target market
To engage the freedom community for your products, services or idea's, there is no better means than FreedomsPhoenix.com!
Want more traffic and make mores sales?
Buy a Banner Ad
or contact our Sales and Marketing manager Drew Phillips. He is more than happy guide you with effective advertising. Here at FreedomsPhoenix.com we can put together a full multimedia campaign. With Low Cost yet high quality Video ads, Audio ads, Web and Print Production we can do it all!