Arizona Breakfast Club Sat January 11th, 2020, 8-11 a.m. - Featured Speaker Alan Korwin
THIS MEETING IS OPEN TO THE PUBLIC - ANYONE CAN ATTEND - NO MEMBERSHIP NEEDED...  THE PRICE FOR THE MEETING IS $5.00 - No Buffet - Individual orders from the menu!
The meeting of the Arizona Breakfast Club will be held at : Denny's Restaurant. 7000 E. Mayo Blvd, Scottsdale (Scottsdale Rd & the 101 - North. See map below.) Saturday January 11th, 2020. Breakfast 08:00 to 9:00 AM, Program from 9:00 AM to 11:00 AM.
Topic/Speaker: Join us Saturday, January 11th, 2020, for the next installment of the Arizona Breakfast Club. Our featured speaker will be Alan Korwin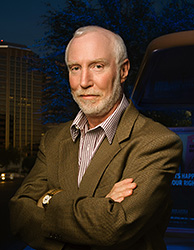 Alan Korwin
Alan Korwin has been making a decent living as a full-time freelance writer since 1984. He is a founder and past president of the Arizona Book Publishing Association and a former board member of the Society of Professional Journalists in Phoenix.
His clients include IBM, American Express, Intel and anyone else with a checkbook and a bank guarantee card. He is a frequent guest on radio talk shows, television news programs and is an advisor to several national advocacy groups.
Alan's first book, the Arizona Gun Owner's Guide, is in its 26th edition, and he wrote the unabridged guide, Gun Laws of America.
He completed Supreme Court Gun Cases in 2003, The Heller Case: Gun Rights Affirmed! in 2008, and completed his book on free speech, about 186 things you can't say anymore, entitled, Bomb Jokes at Airports in 2011.
His newest book is Your First Gun, for people new to gun ownership, and for gun owners to give to their gunless friends.
Saturday, Alan will help us examine "Enforcing News Media Ethics" the differences between news reports and reality, how freedom and guns are related, where the threats to freedom are really coming from, and what you can personally do about it all.
He will remain afterwards to autograph books.
===================================
The Arizona Breakfast Club
http://www.arizonabreakfastclub.org/
The Arizona Breakfast Club first came together, in 1969, founded by Harry Everingham. Harry had been a conservative activist since World War II, publishing the American Patriot and leading We The People, a national organization.
Harry came to Arizona from Chicago, and had been discussing the issues of the 1968 election campaign with friends over coffee. The discussions were good, and a decision was made to create a club for political discourse. The Arizona Breakfast Club opened its first public meeting in January of 1970 to fight for freedom in a patriotic forum where our faith in God, our constitutional republic, and productive economy would be championed. The club was to rally conservatives and to educate people about the state of the nation and their American Heritage of liberty.
Senator Barry Goldwater, Arizona's Statesman, and often one of our guests at the podium, best outlined our desires for good government when he said: "I have little interest for streamlining government or making it more efficient, for I mean to reduce its size. I do not undertake to promote welfare, for I propose to extend freedom. My aim is not to pass laws, but to repeal them. It is not to inaugurate new programs, but to cancel old ones that do violence to the constitution, or that have failed in their purpose, or that impose on the people an unwarranted financial burden. I will not attempt to discover whether legislation is 'needed' before I have first determined whether it is constitutionally permissible. And if I should later be attacked for neglecting my constituents' interests, I shall reply that I was informed that their main interest is liberty and in that cause I am doing the very best I can."