The 2012 Iowa Republican Circus & My Predictions for the Upcoming Elections
By: Ryan Mott


Watch out, the elephants have escaped the tent and are now running the streets of Iowa leaving behind steaming piles of Santorum!!! If you haven't already noticed, Iowa was quite the focus of attention in the political world as of late. Living here in the state's capital, Des Moines has felt like being in Washington, DC or New York. Everywhere I went I saw trucks from CNN, NBC, FOX, local news stations from across the country, and even the occasional Russian and Japan TV. Heck, I wouldn't be surprised to find out Antarctica TV had been here. Well, it's all over now and time to figure out what all that "caucy" talk was about. I'm here to present a perspective from someone who was active here in Iowa, putting in hours on the phones and streets rallying voters to get to their precincts and vote.

I'm not planning on giving you a detailed explanation of the caucus process, only my observations of what I experienced in '07 and '08, along with the differences this time around. Hopefully I can even give you some ideas to help make your precincts successful.

Flashback to '07-'08. My first experience at a Republican caucus. Up to that point I just thought I was a Democrat because I had never gotten much exposure to politics as a kid. Nearly everyone else around me had identified themselves as a Democrat, so it made sense to me. It didn't matter that I knew nothing of the issues, and hadn't really formed any opinions myself. I was a Democrat. That all changed the day I heard Dr. Paul on an internet radio station. After listening to him speak, I found myself wondering, "Where has this guy been all my life…and why isn't anyone else talking about these important topics?" I was immediately hooked and by June '08 I was off to my first RP rally held here in Des Moines. There I met enthusiastic supporters from all over the country. Let's just say it was everything I expected, and everything I needed to fuel my activism and campaign work for the rest of the year. I placed phone calls, sent letters, did data entry, attended gun show booths, high school speeches, sent Myspace billboards and messages, stood on corners with signs, put up signs, went door-2-door, wore Paul apparel everywhere I went, and even got the chance to join Ernie in NH to help fuel that Lovelution. If anyone came up with a good idea back then, we were willing to give it a shot, no matter what. Those were the days of the spontaneous meet-up groups that popped up all over the country. We met frequently, and had the freedom to spread the message whatever direction our money and imagination took us. I wish I had time to mention all the wonderful ideas and events Ron Paul supporters came up with, but time is short. All I know is, we were on a mission and nobody was going to stop us. I'm not sure what would have happened if the thought ever came across our minds that he might not win in Iowa. I figured all I had to do was get people to listen to this man on a Youtube clip and that's all it would take…or so I thought.

Months and months of this volunteer work went on all across the state until it was finally time for that night we had all been waiting for. Caucus night. I was a newbie at this point, and didn't know what to expect. All I knew is that I needed to be prepared in case a speech was allowed, and that I had to stay after to try to become a delegate. I may have been one of the only younger people there, but I came prepared with a sharp shirt and tie to go along with my speech. Once my 2 minute speech was over, I took a few deep breaths and tried to get rid of the shaky hand syndrome. My expectations of the outcome of the election were almost as high as my nerves. I was doing it, this was it. People were coming up to me afterwards, shaking my hand and thanking me for giving the speech. This must be how it is all over the state, I thought. Then it came time to count the vote after the rest of the candidate's representatives got done "not" speaking on their behalf. I must admit, I came in to the process kind of worried about the whole vote fraud issue. Much to my surprise, it went down pretty smoothly and in front of our eyes. There were no computers to hack, just a pile of ballots with a candidate's name written on it. Next was the counting process. We went old school this time and used our brains to count by 1's. It took a whole couple of minutes to count all 200 or so ballots without computers. Much to my surprise, Ron Paul got only a hand full of votes. I couldn't let that get me down though; there was still this whole delegate thing that I had to check out. So as 9/10ths of the people instantly left the gymnasium, I was left with the real 1/10th of 1 percent in my precinct…the real troopers. The ones who stay after 10 extra minutes, not a big deal…right? Long story short, I got nominated and gave a short speech. By the end of the evening I went home as my local precinct delegate and also got a seat on the Polk County Rep Party Platform Committee. PCRPPC for short.

A few months later and I was off to the county convention as a delegate to my precinct. Once again, I was thrown in with the "elderly" lions to go to battle. Again, I won over some votes and made it to the state convention. From there, it was a pretty easy task. Vote for Ron Paul supporters were everywhere. Even though he only got around 10% of the vote in the state, somehow it seemed he had a larger presence at the state level. As a matter of fact, that night 5 of the 16 members voted in to the GOP State Central Committee were RP supporters. 1/10th of the votes, but nearly 1/3 of the representatives at the top. That's the secret weapon most people never heard about. The Ron Paul R[̲̅ə̲̅٨̲̅٥̲̅٦̲̅]ution was a brewin'.
Fast forward 4 years, and you can imagine the growth in support. The Campaign For Liberty was alive and progressing this whole time. Now back to the recent vote. I'll skip the details on my caucus and get right to the differences and observations I made that night. In order to vote, you do not need to be registered Rep. You only have to have a state ID along with proof of residency, which could be as simple as a phone or utility bill. I made it clear to all my friends and family that is all they needed. The 2nd most important part is finding your caucus location. That's where I encountered all the problems. Up to this point, the Romney-endorsing Des Moines Register has always released the caucus locations in a full page ad prior to the caucus. Apparently, this time around the Republican Party had to pay for the ad, whereas the Register normally covered that. It came last minute, and it came tiny. I guess this 1 day local newspaper ad cost too much cashola this time around for the Rep Party to purchase. Inflation? Lack of funds? Not a bigger blank spot in that failing newspaper? I'm guessing not. Every friend/family member I knew that lived in an apartment/duplex had problems finding their location. I was getting calls all the way up to my speech about this. Feverously texting, I tried to help my friends. Finally I gave up and called HQ myself. Whoever answered the phone was no help at all. They were unwilling to help and told me to run the addresses through ronpaul2012.com. Obviously I had done that, along with the GOP and Secretary of State's websites. My cousin got the same result. They even told him not to bother going because it was 6:30 and too late to vote. That's after telling him his polling location was on the other side of town far away from his zip code. So while I was supposed to be identifying RP supporters in my precinct to get them to stick around and be delegates, I was instead trying to help others with the easiest part of this whole process. Where do I vote? Apparently the news was no help either. My cousin and his RP supporting roommate flipped news channels for an hour hoping to get any help. There goes 2 potential delegates down the hole. Luckily, last minute another one of my friends found a helpline on the internet somewhere and got a straight answer right away and rushed to his location to make it just in time. Ron Paul won that friend's precinct, by the way, along with most of the others I'm hearing about from friends and family and fellow Ron Paul supporters in Des Moines. Finding voter locations was my main obstacle, but others were experiencing their own. I mostly heard reports of precincts winning, but then RP supporters not staying around to be nominated for or to vote for delegates. That's another problem I had. 35 votes and only 3 of the Ron Paul supporters I recognized stuck around. With that being said, there were still plenty of others getting those delegate positions. Just log into the DM for Ron Paul Facebook page. There were multiple reports of victories and delegate positions obtained everywhere I looked. I felt I had not accomplished my goal since I was only an alternate delegate. Thankfully, my girlfriend had a similar experience as I did in 2008, and won over a handful of people with her speech. She landed not only a delegate position, but also a spot on the platform committee. To read more about her experience you can read her blog,
My Thorns Have Roses
, where she has highlighted the recent political events here in Iowa in her last couple of posts.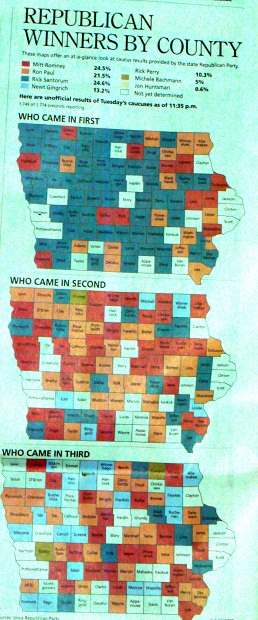 Overall, I have to say the night was an absolute success. There are always things that can be done better, but I believe we achieved our goals. In 2008, only 1 county chose Ron Paul as their president, and that was Jefferson County. If you want to know how they did it,
click here
. They'll always get to hold that title of the first victory in the nation for Ron Paul. That's where the snowball started rolling downhill. This time, Ron Paul easily won Jefferson County again, but as you can see by the orange counties on the top of the DM Register's article, he also won 14 others. That's not counting the 26 counties he got 2nd place in. A vast improvement from the last election cycle.
With a strong third place showing for Ron Paul in the caucuses here in Iowa, and with the security of plenty of delegates in support of him, I'm enthusiastic about where this campaign is headed in the following months. I can't deny that I was rather taken aback at how many supporters showed up on behalf of Rick Santorum (didn't see that one coming), but my prediction is that his extreme right wing family values positions and his impending lack of funds will halt his unexpected current momentum. While I don't see New Hampshire (the Live Free or Die state) as backing Santorum in any sort of upset, I do recognize that Ron Paul will be competing against Mitt Romney, who still remains the media darling, thus probably gaining him plenty of votes and support at this point in the election process. Newt Gingrich, I feel, is still in this until he'll be basically forced out. It's my general feeling that the people of this nation, while acknowledging his experience, will not be able to trust him and his sketchy past and/or positions. Regardless of whether he "did it for his country" or not.
Beyond my predictions about where this specific election is headed, I also want to note that the thunderous grumblings of grassroots revolutionaries ready to finally take a stand has only just begun. Everywhere I go, I get the general consensus that Americans are ready for an ACTUAL change, one which champions of Ron Paul recognize will last long after Dr. Paul has either secured or lost the GOP Presidential Nomination. I predict that the face of American politics will be changed with this election. Constituents both young and old are ready to secure the freedom and liberty that we are promised in our Constitution.
Rather than showing our ability to lead the world through a policy of policing the world, I believe that Americans are ready to prove that we can lead by setting an example that will resonate to all humankind. By making sure the world knows that a President Ron Paul will guarantee that freedom and liberty are virtually synonymous with peace and prosperity.