2012 FSP PorcFest
I've wanted for years to make one of these, but usually had my own FSW Jamboree going on the same weekend, or was in Africa hunting. This year, neither intruded -- and I was free and keen to come out! It was time that I took a break, as the revised/expanded
Hologram of Liberty
was newly in stock (to include a July Kindle release).
2012 PorcFest was very well organized and fairly "high-end" as an event. It was attended by a few hundred people, many of them PorcFest veterans. Lots of infrastructure. Buildings. An A/V system, and a stage. I had hoped that ample food services would be available, and was not disappointed in George's outfit and his "Bacon Weave" omelet. The VIP Tent was the happening place, which surprised us members with nonstop free beer and booze -- thanks Jarrod! The rolling hills are beautiful, and the Roger's Campground is a superb venue for the FSP throng. I was there the entire week, but missed the low humidity of Wyoming! My thanks to Tracy Ward for selling my books for sale at her campsite in Agora Valley, and to those who purchased them.
Before my talk on Friday morning, I was on two broadcasts: Radio Free Live and Ernie Hancock's "Declare Your Independence" -- both of which are always a pleasure. Between those hosts, we covered a wide variety of subjects, and I'm keen for that spontaneous environment of ideas.
I gave my featured PorcFest talk on "
The Tectonic 10th Amendment Battle of the States vs. the Feds
".
We libertarians all desire a profound reduction in the level of federal regulation and taxation, and part of that answer may ironically be found in the recent resistance to the USG by the various 50 States. Boston T. Party will describe how this phenomenon may be our only imminent practical solution to restoring a laissez-faire Republic!
In my talk, I began with the line, "
Being the founder of the FSW, I feel sort of like a Dodge truck at the Ford dealership!
" It got a good laugh. I then spent about 45 minutes in overview of the
coup d'etat
nature of the Philadelphia Convention of 1787 and its Constitution. I closed with my prediction of a disastrous 5-4 ruling upholding the individual mandate of Obamacare, and that state resistance to such may give us some desperately needed breathing room.
That afternoon I joined Bill Buppert's panel on "Resistance and Rebellion" with sci-fi author F. Paul Wilson and others. This was a fascinating round-robin which covered many shades of opinion on the long-term efficacy of resistance. My salient comment there was that collectivism cannot be eradicated, and resistance to evil is like cleaning a kitchen counter in order to eat off of it vs. eliminating 100% of bacteria (the anarchist goal). I closed that thought with the opinion that even if all the best libertarians managed to colonize the Moon or Mars, within a few generations they would be fighting statism amongst themselves. The urge to control others in order to avoid one's personal responsibility seems embedded in human beings, and it's preferable not to have utopian notions regarding imperfect beings.
On Saturday I had the pleasure of meeting Ben Stone (a.k.a. the "Bad Quaker") via our valued FSWer Michael W. Dean for the purposes of doing a couple of half-hour podcasts. We covered my books, the new
Hologram
, and my forecasts about freedom in the future. Thanks, Ben!
My impression of the attendees was a bit mixed. I made many new friends, and saw a lot of old ones. PorcFest was very top-heavy with the hippy crowd, and I gave a miss the "Bigger, Gayer Dance Party". Although open carry is not uncommon, there were only a few obviously tactical guys about who seemed to have considerable training. Porcers there were pretty nice to me, especially considering that I usually sported an FSW T-shirt and hat. All PorcFest needs is an adjacent gun range and some capable instructors! I had fun, and look forward to returning sometime. Thanks to Jason and Sharon and their fine crew!
___________
2012 FSW Jamboree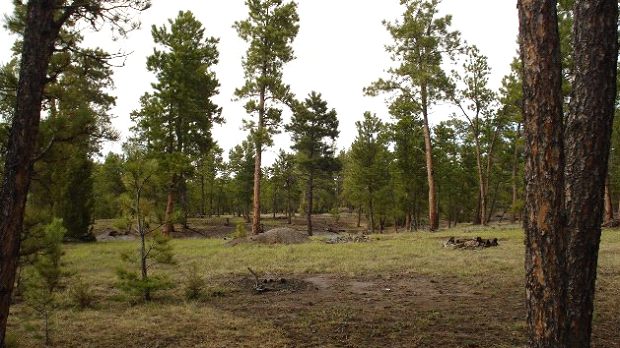 This was our 6th annual event, four days of camping, shooting & BBQ, with inside bathrooms, hot showers and a full kitchen. We enjoyed a swap-meet (books, guns, shirts, gear, etc.), raffle, Soapbox contest, late-night sing-along, some impromptu martial arts, a mini-Appleseed, and a 1-day handgun course of mine. Our Jamboree is a much more relaxed and informal event than PorcFest (although this year we had a mike and PA system --
woo hoo!
).
Having run the previous five Jams myself, this was the first I've handed off to another, I must say that Terence served us all extremely well. (His helmsmanship there greatly relieved me of some time and preasure that I used to get back to writing.) Such events are not easy things to host or budget for. If, after all the work and stress, he politely declined the job next year, I wouldn't blame him!
Being much less organized than PorcFest, the FSW Jam relies mostly on
ad hoc
volunteers and has a family reunion type of atmosphere -- one which I'd like to retain. (With the FSP's higher numbers, their PorcFest must be as highly organized as it is.) There's nothing wrong with a cadre of T-shirted official volunteers with schedules and radios, but our Jam would seem to lose something if we ever became that structured. I've long thought that a cap of 200 attendees seemed about right, to keep the event tight and foment a sense of "oneness" vs. 500+ people splitting off into coteries and missing out on each other. In fact, I'd prefer two or three events a year, vs. one huge Jamboree.
We enjoyed meeting many folks from Colorado, and one new Jamboreester/Riflechick-in-training from the Denver area put it well:
The atmosphere I experienced was laid back, with impromptu groups talking about everything under the sun, mingling about, joining in and stepping away from conversations as they saw fit. Everyone was so friendly and knowledgeable, bringing different opinions to the table. Of course, there were different personalities (how could there not be?) but I think they meshed well and everyone seemed to be enjoying themselves.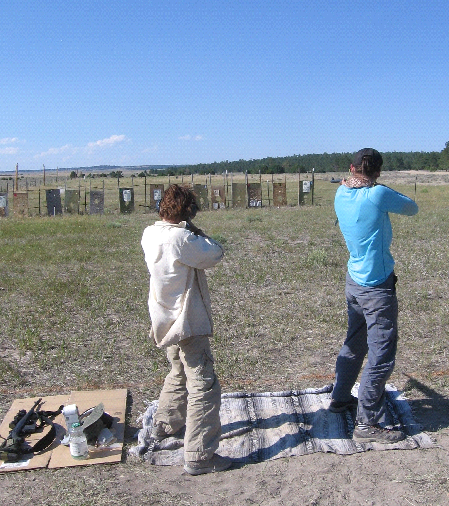 As is normal for us, most (at least 75%) Jamboreesters were openly armed. It's part of FSW culture. Our pistol and 500yd rifle range with steel targets is next to the campsite, and the happy crackling of gunfire was heard throughout the day (and often night) and folks come and go at their leisure. Rifles of all kinds were represented: Scout bolt-actions, AR15s, M1As, AR10s, etc. Though the Friday heat was memorable, the Appleseeders ground it out (with an East coast friend earning his FSW Rifleman score). Many students had never before shot even a .22 rifle, and learned much that scorching day!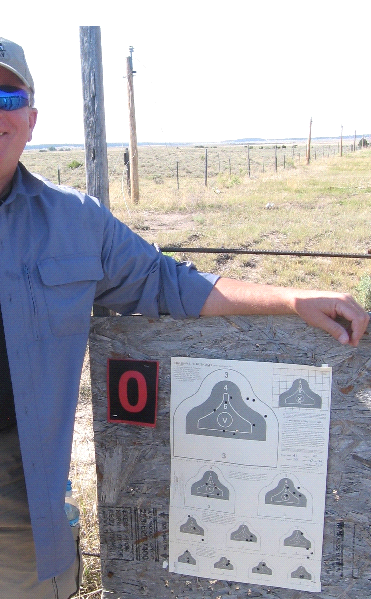 The next day, most of those hardy souls (6 of 8 were women) returned to the range for a full Saturday under my handgun tutelage. The students generally shot Glocks and XDs, but a 1911, EAA Witness, and Colt .38 Special were also present. It wasn't quite as hot as Friday, but the wind was a nuisance. All students did superbly, and got a good intro to the basics (including legal scenarios, safety, presentation from the holster, reloading and malfunction drills, movement, and one hand/weak hand shooting) which usually require 2-3 days elsewhere.
We always cap off our Jam with a Saturday BBQ which we self-cater in traditional family-style manner, with plenty of cheer, conversation, and camaraderie. Some filtered back to the range, most hung around the BBQ area, and a few stayed out until the wee hours with beer and song. Although not our largest Jamboree, the quality ratio was very high this year and several attendees have now either moved out to Wyoming, or will do so shortly. This is always very exciting news, and I wish them our best from the FSW. We look forward to becoming their friends and neighbors!
For the 2013 FSW Jamboree there are some exciting new ideas in the works to ramp up the size and quality of the experience. Details to be posted on www.freestatewyoming.org in the future. If you haven't yet made one of our events, please reserve 2013 Memorial Day Weekend for us. Come see why we freedom-lovers and shooters enjoy Wyoming so much!
Kenneth W. Royce is an American author who primarily writes under the pen-name of Boston T. Party. He has written non-fiction books that offer a libertarian stance on privacy, police encounters, tax resistance and gun politics.His books are published by Javelin Press, which only publishes these works. He has written one fiction novel, Molôn Labé!, and is one of the founders of the Free State Wyoming project.