A month ago Jeff Cullen made a very generous offer after being greatly inspired by the Ron Paul Revolution. Jeff is a constitutionalist and understood immediately the effectiveness of the RPR logo and how it represented his emotions in this campaign cycle. As a long time supporter of Ron Paul's efforts Jeff has provided us with a very unique opportunity with very few conditions that are more than reasonable.
Almost 10 years ago Jeff and his family (wife Maggie Cullen and their 2 sons, Jeffrey Jr. and Christopher - Jeff's sister Pam Manning and her daughter Amanda and son Steven - Jeff's brother Jim Cullen and his daughters Jessica and Heather and his 2 sons, Paul and Matthew), bought an abandoned Stuckey's Truck Stop on the I-15 between Las Vegas and Los Angeles that is run by his brother. They have been steadily restoring this property that runs for almost a mile along the interstate. The high angled roof is clearly visible from both directions of traffic and Jeff has asked that we paint a Ron Paul Revolution across the entire roof.
Jeff also has two very large 45' high billboards on the property to be painted as well,…. but there's more. Three semi trailers are on the property and can be placed so that 3 sides are able to be used for messages and short Ron Paul quotes. In all, there are over a dozen large sign areas that are seen from both directions of traffic.
This stretch of interstate is one of the busiest in the entire nation with this highway being feed from the Los Angeles harbors that supply Las Vegas and communities eastward. We arrived on a Sunday and in the afternoon we were astounded by the traffic jam that stretched from Las Vegas to Los Angeles. We were told that the weekend traffic between the two cities encourage the truckers to travel the route at other times so the interstate is constantly busy.  I was told that over 7 million people pass this location a month and this opportunity is eagerly being taken advantage of, (heck, that's a lot more vehicles than there are people in the entire state of Arizona).
Jeff has also provided us with an entire wall of the general store for the display of Ron Paul Revolution material to be sold and given away to motorist.
When I and another Ron Paul Revolutionary drove the 6 hours to the  Truck Stop to meet with the owner we also met the founder of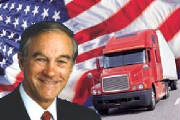 www.Truckers4RonPaul.org
to make plans. There are many truckers in support of Ron Paul and the r3VOLution and truckers have special needs (like very large magnetic signs)
Over the last few weeks we have been planning and preparing for this effort and a talented and skilled team has gotten time off from work and set aside other duties for the 4 day workfest to accomplish the tasks. Many printed materials and clothing items have arrived and are on their way to stock the facility.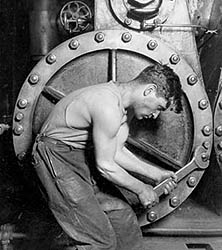 Late Thursday night on the 4th of October the team will arrive to set up. The restaurant portion of the building is under construction so it has been offered as a sheltered sleeping area but most of us are planning on camping and cooking out. We do not plan to be leaving the work site until Monday afternoon on the 8th of October.
Two large trailers will accompany us and have as much equipment as we think we will need. Supplies and large rental equipment will come from Las Vegas and Barstow.
Ron Paul Revolutionaries in Las Vegas and Los Angeles have been preparing as well to meet with Phoenix Revolutionaries to make certain that this effort is a success. We waited until now to share this information more publicly so that there would not be any interference with the effort. Those that wish to help us with this effort are welcome and needed. But the curious would only be a distraction and we have a great deal to do in the allotted time available.
Saturday and Sunday will be the days that will require the most labor and we hope that those willing to be a small part of the effort will choose those days to come by early and help.
Please plan on bringing your own food and drink since we have not made any plans for anything but the basics for ourselves. If you were to contact me by phone 602 717 5900 on your way in then we will be able to ask you to stop for supplies that we need and didn't anticipate.  The General store phone number to reach the Truck Stop and Jeff's brother Jim Cullen is 949-422-1856. We are very far from anywhere (40 miles closest).
We will have camping gear, ladders, projectors, computers, welders, canopies, work tables, power tools, plasma cutters, cutting torches, table saw, shelving etc. We are certain to need ¾ inch plywood, Bear Outdoor High Gloss Black, Yellow, White and Red paint (owner's request) and various hardware and other colors of paint. This effort is very expensive and we can use every sort of help that does not distract from the work. Those planning on adding to the workforce should plan on being as self sustaining as possible. If you have a strong back and no tools,… cool. If you wish to supply meals and refreshment,… great. If you desire conversation then another time would be much more welcome.
Here are directions and some requested information from the owner Jeff.
=== 
from southern california...no matter what freeway (s) you use...get to the interstate-15 northbound to las vegas...keep going through barstow, california...keep going about another 40 miles on the interstate 15 northbound ...you will exit at "AFTON ROAD"...turn left accross the freeway and we are the only building located in the area...easy to find...
from anywhere on the interstate 40...go westbound until you reach the interstate 15 and then go 40 miles northbound to "AFTON ROAD"...
(please note that there are shortcuts to take from the 40 to the 15 ...but i am only giving directions that are fool proof...
from anywhere north of our location on the interstate 15...go southbound through las vegas...past stateline...and past baker...to "AFTON ROAD"....
we are in the middle of "nowhere"...but we like to say "we are halfway to everywhere!!!!!!!!!!"
equipment rentals are best using the las vegas resource...many more companies to select from...barstow does have rental companies...but if the equipment is "down" or already rented ...this could be a problem...barstow now has a new "HOME DEPOT"  ...
we have 110 and 220 power...
our building is very big and can handle very many people who want to "camp" inside the large area where the pool table is ...using cots...and /or sleeping bags...etc...that way the folks can use the indoor bathrooms during the night...much better...plus we have an outdoor shower where the picnic tables are...a person would need to maintain shorts on...but can indeed shower and clean up...etc...
anyone wanting to use a motel...tell them to look up "yermo" and there is a nice motel there...this time of year they will have not much problem getting a room...the motel is about 3 years old...so it's in great condition...an important part of the location of the motel is that it is between our ranch and barstow...so travel to barstow the next morning to get stuff might be made from the motel location ...making the motel use more plausible because then there would not be any waste of gas...just a thought...
i think moving the big trailers is going to need a big rig tractor...so i do not know how you plan to do that unless you have a trucker willing to help...
we use our bar-b-ques most every day...so the cooking is easy...if you have other ways to cook...great...
your plan sounds great...please know that you are welcome to stay at the ranch while the project goes on...and most of all know that you and all your team will always be welcome to return...
ron is really doing great and i know we can win...jeff.
let freedom ring!!!!!!!!!!!!
===
Here are some owner approved slogans and messages for some of the signs…
No PATRIOT Act
Health Freedom
Bring the Troops Home
Precious Metals =  Sound Money
THE CONSTITUTION IS RUNNING FOR PRESIDENT IN 2008...IN THE NAME OF RON PAUL!!!!
 FREEDUMB vs.FREEDOM
vote Ron Paul President 2008
LET US PREY  (NEW WORLD ORDER)
                        vs.
LET US PRAY  (IN GOD WE TRUST)
Ron Paul
"Constitutional"
R3VOLUTION
These are just some of the ideas that have Jeff has shared with us but he is very tolerant and is looking for your creativity and a Ron Paul r3VOLution theme. There is plenty of message space available,… do you have something to say?
Please contact me if you wish to be part of the effort and know when you will be arriving so we can schedule the work around the number of available workers (some things like the painting and erecting of the billboards will take quite a few hands).
We are already planning the next 3 BIG Ron Paul Revolution Projects, so stay tuned.
We hope many of you can join in the fun,
Ernie