How to get Next News Network on ROKU

Written by Donna Hancock
Date: 10-29-2013
Subject: How To


While Ernest was doing his radio show today, the guest was John Ciesar (Program Director for Next News Network). John mentioned that N3 is on ROKU now, so during the show I went and downloaded the N3 app to our ROKU box, and can now watch the N3 broadcast on TV.

Here is what I did...

2. Once you click on the 'Add' button, a window will pop up that will ask if you want to add Next News Network to your ROKU account - click Yes, Add Channel (see illustration below):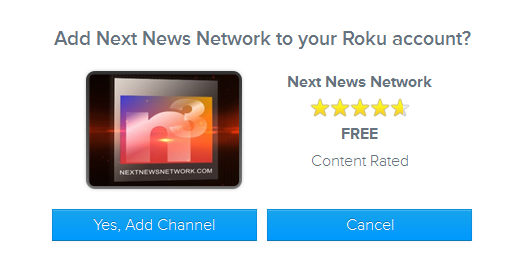 3. Once you add the channel, you will see this:
Channel Next News Network has been added to your channel lineup.

Channels typically will show up within 24 hours. To access your new channel now, you can refresh your channels on your home screen by visiting Settings > System update or Settings > Player info and checking for an update. Channels that have hardware requirements or minimum firmware requirements will not be displayed on Roku players that do not meet those requirements.

NOTE - I went to the ROKU box and followed the instructions listed above, and the Next News Network feed was there, and I was able to watch it live right then

Send Letter to Editor