Danielle and Dennis McClung from
http://gardenpool.org/
will be at the Arizona Breakfast Club this Saturday 8-10am with at least a 1 hour speech/presentation and a Q&A afterwards!!!!
When the McClung family moved into their new home in Mesa they were told by the city they had two options with their swimming pool: Dig it out and fill in the hole or pay a lot of money to have it repaired.  They designed a third option like nobody had ever seen before.  They enclosed the pool with a greenhouse and created a self contained sustaining ecosystem complete with chickens, catfish, talapia, vegetable garden and fruits, recycled water purification and a solar electric panel to provide electricity for fan and pump.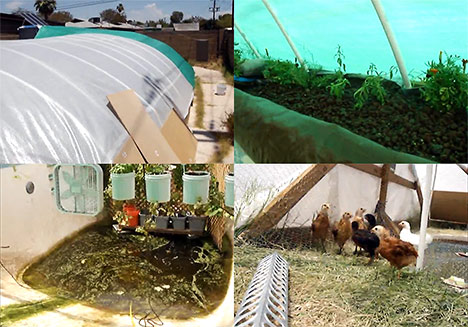 Additionally maybe we can get them to discuss their hydroponics expertise/projects and their latest composting project.
If you are interested in any aspect of growing some of what you eat these guys are really, really clever at it.  Don't miss out.
Where:
ARIZONA BREAKFAST CLUB
The first Saturday of every month
Food is served starting at 8:00 a.m. 
Discussing begins around 8:30 a.m.
Saturday, April 2
nd
, 2011
Hometown Buffet
1312 N Scottsdale Rd
(1/4 mile south of McDowell, on west side of street)
Scottsdale, AZ 85257
Attendees get a special rate of $8.50 for all you can eat buffet breakfast, but they must
tell the cashier they are with ABC
in order to get that rate.