Letter Written by: Ernest Hancock
Date of Letter: 2009-07-26
Subject: Militia


I just got this email from... "Myself???"
I'll get the computer geeks on this... but it is clear that we are being 'prepped' for something.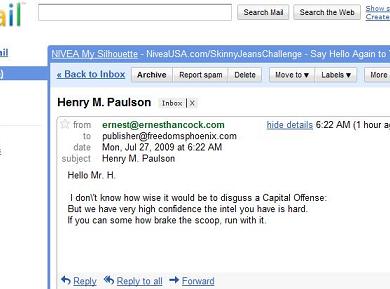 From: Sons of Liberty Militia [mailto:guerrillaresistance_1@hotmail.com]
Sent: Friday, July 24, 2009 7:14 PM To: Publisher@FreedomsPhoenix.com
Subject: Secret Pass it on.
Henry M. Paulson, the Secretary of the United States Treasury was executed by the United States Militia for treason against the American people !
This is being kept secret so not to start more copy-cat scenarios.
It's not a Financial Crisis !!!
It's a Bankster Gangster Scam !
There are 2 ways to Conquer and Enslave AMERICA !
One is by the sword, the other is by [ debt. ]
Prepare to defend your families !!!
What is Liberty ?
Freedom from Control !
Sons of Liberty Militia
Tim Stine
312 S. Wyomissing Ave.
Shillington, Pa. 19607 U.S.A.
610-775-0497
sonsoflibertymilitia@verizon.net