RALEIGH, North Carolina (WTVD) --
Law enforcement officials are disappointed and disturbed by what happened to police officers at a Raleigh restaurant.

On Jones Sausage Road, the message by the drive-thru at Smithfield's Chicken 'N Bar-B-Q says that it's "grateful to serve."

Friday night, that service came with a side of disrespect.

A member of the Raleigh Police Protective Association (RPPA) took to the group's Facebook account to express concern over the incident. The post reads:

"Thank you Smithfield's Chicken & Barbeque Jones Sausage location for the class and professionalism as you sang "F the Police" as my brothers at Raleigh Police Department attempted to eat at your restaurant. The manager sang along as well. Do you really feel that was appropriate?"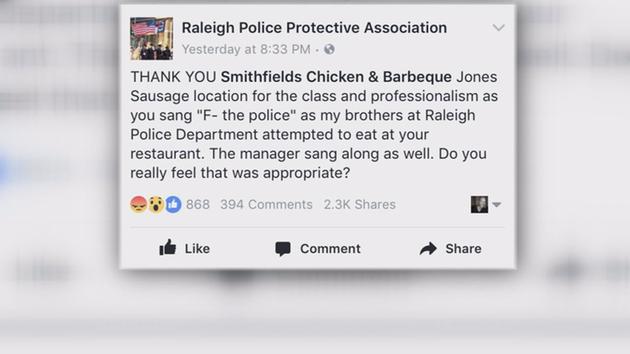 A member of the Raleigh Police Protective Association (RPPA) took to the group's Facebook account to express their disgust (Facebook)