The U.S. District judge who ordered Trump's lawyer Michael Cohen to identify Sean Hannity had officiated billionaire George Soros' wedding in 2013.
Judge Kimba Wood officiated the "non-denominational" wedding between Soros and his third wife Tamiko Bolton in 2013 in Bedford, New York.
Suddenly, Wood's decision to force Cohen to disclose his clients becomes clear.
Before Hannity was revealed as a client, Cohen's attorney Stephen Ryan argued to Wood that one of Cohen's clients was a "prominent" person who wanted to remain anonymous – as is his right – because it would be embarrassing to be revealed as Cohen's client.
"I understand he doesn't want his name out there, but that isn't the law," Judge Wood said.
The Fox host took to Twitter on Monday to clarify his relationship with Cohen.
"Michael Cohen has never represented me in any manner," he tweeted. "I never retained him, received an invoice, or paid legal fees. I have occasionally had brief discussions with him about legal questions about which I wanted his input and perspective."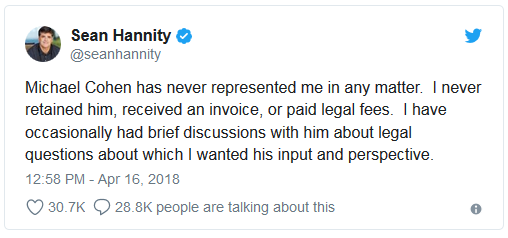 ...................................................