The SCOTUS nominee's staunch rebuttal of the allegations levied by Dr. Christine Blasey Ford that he sexually assaulted her 36 years ago when they were both teenagers apparently convinced the handful of wavering moderate Republicans to throw their support behind Kavanaugh, as reports emerged last night that the Senate has the votes to confirm Kavanaugh, and that Senate Judiciary Committee leaders intend to hold a vote to recommend Kavanaugh first thing Friday morning, with the Senate confirmation following "in the coming days" (according to Mitch McConnell) - just in time for lawmakers to embark on an October campaigning blitz ahead of the Nov. 6 midterm vote.
According to Bloomberg, all eyes are three senators who have been undecided: Susan Collins of Maine, Lisa Murkowski of Alaska and Jeff Flake of Arizona. Flake told reporters he was undecided and the other two have declined to say where they stand. Meanwhile, Bob Corker of Tennessee said yesterday that he has decided how to vote - though he has yet to reveal his intentions. Meanwhile, Democratic Sen. Joe Manchin has been meeting with Republicans about possibly voting for Kavanaugh. "We're still talking," Manchin said.
So, with Republicans reportedly on the cusp of confirming the long-awaited fifth vote that would cement a conservative majority on the nation's highest court for the next generation, and with President Trump having voiced his unequivocal support for his nominee after wavering earlier in the week...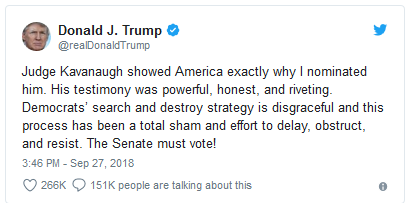 ...Online betting odds that Kavanaugh will be confirmed - which had dropped during Ford's testimony Thursday morning - rebounded sharply on Friday, showing that investors overwhelmingly expect Kavanaugh will fill the seat once held by retiring Justice Anthony Kennedy.
Read Full Story