News Link • France • https://www.zerohedge.com
The pressure will now grow to disperse the Yellow Vest movement while also attempting to use the Red Scarves to manufacture support for draconian government policies and police crackdowns aimed at finally ending the establishment-threatening protests.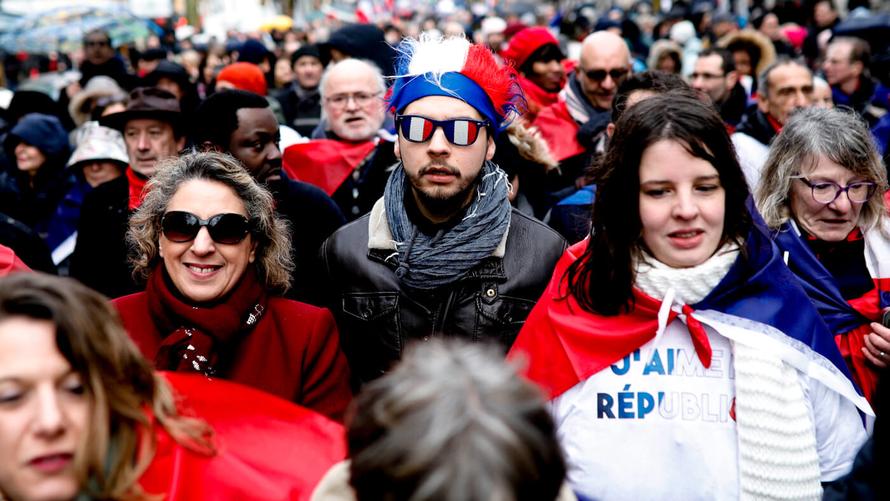 As the "Yellow Vest," or Gilet Jaunes, protest in France continues to perplex and concern the French government and European elites, a new "counter-protest" has emerged in response to the popular protest movement now entering its 12th week.
Protesters branding themselves as the "Red Scarves," or Foulards Rouge, descended on Paris this past Sunday in order to protest the "violence" of some Gilet Jaunes protesters and a desire to see the country return to "normalcy." The French government, which has sought to weaken and disperse the Yellow Vests movement since its inception, stated that the Red Scarves numbered around 10,500 in Paris, while other reports claimed that the demonstration was significantly smaller than the government-supplied figure.
The group has been described as "diverse" — much like the Yellow Vests, who have drawn support from across the French political spectrum — and "apolitical," as its leadership have stated that the Red Scarves are not necessarily supportive of French President Emmanuel Macron, whose ouster is being sought by Yellow Vests demonstrators. Some participants who were interviewed on Sunday stated that they were not protesting against the Yellow Vests but instead in favor of protecting the integrity of France's political institutions. This has led the Red Scarves themselves, as well as subsequent media reports, to portray the group as representing France's "silent majority" that – until now – had refrained from demonstrating.
According to reports from mainstream outlets, the Red Scarves movement – which was joined by another pro-government counter-protest group, the "Blue Vests" — was a direct response to violence from some members of the large Yellow Vests protest movement that has resulted in the destruction of property and clashes with police. Yellow Vest organizers have disavowed the use of violence and have blamed "black bloc" groups for using the movement as a pretext for committing violent acts.
Notably, reports of such clashes largely declined to mention the role of French police in causing and fomenting violence, despite the abundance of video evidence documenting hundreds of instances of police brutality against unarmed and even prone protesters, as well as innocent bystanders. The Red Scarves themselves have also overlooked this aspect, both by "urging respect for French authorities" and by chanting pro-police slogans, as well as by asserting that French policemen have acted responsibly in response to the Yellow Vests despite the fact that the vast majority of injuries suffered since the protests first began last November were caused by the actions of militarized riot police. Over 2,000 have been injured and 10 have been killed since the protests began.
4/ This 15 year old boy who got hit by a tear gas canister. He was only going to the grocery store to get some stuff his mother told him to buy and ended up like this in #Strasbourg. Contains some shocking footage you have been warned before playing. pic.twitter.com/UJi4c66o31

— Sotiri Dimpinoudis (@sotiridi) January 15, 2019