News Link • Housing • Zero Hedge - Tyler Durden
A new Redfin report specifies that only 10% of all offers written by Redfin agents on behalf of their homebuying clients faced a bidding war in October, down from 39% the same time last year and now at a 10-year low. Not even a plunge in mortgage rates this year could attract new buyers.
Three of the top metropolitan area for bidding wars in October were located in California -- San Francisco (34.8%), San Jose (20.5%), and San Diego (15.6%). On the East Coast, most of the bidding wars across major cities were non-existent, except for Philadelphia (13.8%).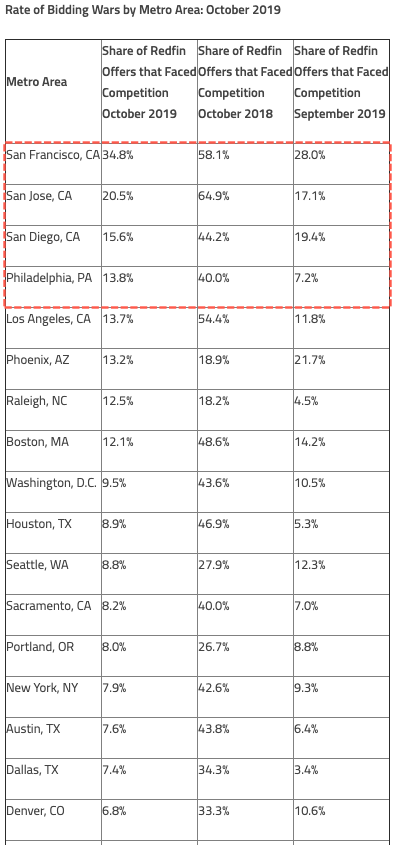 The rate of bidding wars across major metro areas in California have collapsed in the last 12 to 16 months.
For example, 50% to 85% of all Redfin transactions in San Francisco from 2017 through 2Q18 faced fierce competition among buyers. But as soon as summer rolled around, demand plunged, and so did the bids, as the bidding war rate crashed to near zero by 1Q19 -- but has since bounced back to 34.8% in October.