IPFS News Link • How To • Organic Prepper - Aden Tate
Have you ever opened up the latest hunting catalog that came in the mail and drooled over the camouflage options available? Yet you found yourself taken aback by the prices? If so, I will show you a way to make yourself a complete camouflage outfit for all of $10.
For starters, let's talk about the Army.
Several years ago, the Army unveiled its new camouflage pattern: the Universal Camouflage Pattern (UCP). It absolutely sucked.
Soldiers in Afghanistan were often afraid of wearing the stuff. It was such a stupid design. You lit up like a Christmas tree while you were outside. It doesn't blend in with anything. Thankfully, the Army eventually realized its mistake here and went on to release a new design.
However, what ended up happening is that military surplus stores throughout the nation became flooded with UCP clothing, pouches, web gear, and the like that nobody wanted. Why buy something that may as well be bright orange? As such, military surplus stores practically give this stuff away. I'm going to show you how to make UCP into an actual usable design.
Here's how you do it
Step 1: Pick Up Your UCP Clothing: I visited my local military surplus store, where two large bins were full of UCP shirts and pants. (The other surplus camo patterns were selling for $25+/article of clothing. The UCP items were selling for $4. I picked up a shirt.) Notice how it doesn't blend in with anything here. If they had switched to a darker palette, then we would have had a workable design.
Step 2: Go to Joann Fabrics and Buy Apple Green Dye: Really, it doesn't have to be apple green. I'm interested in seeing how a brown or darker forest green would work as well. That's something I may play around with in the future.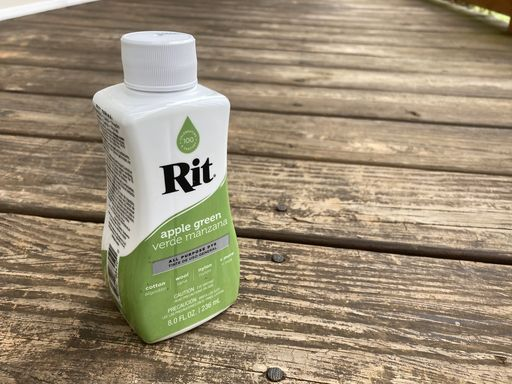 For now, this will do, and it'll set you back all of $4.