Blue stain believed to be sign of poisoning or hypoxia - lack of oxygen that is precursor to altitude sickness
Cold weather and overbreeding blamed for deaths of two 2million fish in Chesapeake Bay
Disease behind deaths of 100,000 fish in Arkansas River
At least nine incidents of mass animal deaths across the globe
Hundreds of confused birds plummeted to their deaths in multiple locations in the U.S.
Rapid movement of Magnetic North Pole towards Russia may have caused bird deaths

Thousands of dead turtle doves rained down on roofs and cars in an Italian town in the latest in a growing spate of mass animal deaths across the globe.
Residents in Faenza described the birds falling to the ground like 'little Christmas balls' with strange blue stains on their beaks.
Initial tests on up to 8,000 of the doves indicated that the blue stain could have been caused by poisoning or hypoxia.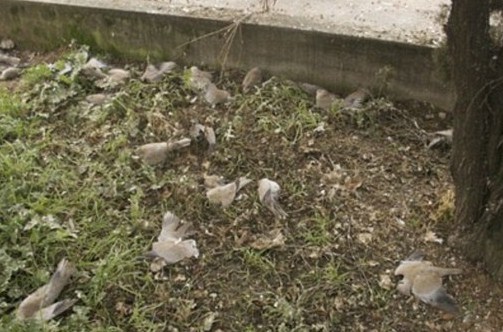 Shock: Residents described seeing individual doves fall from the sky, before groups of 10 or 20 began hitting roofs and cars.
---