About Us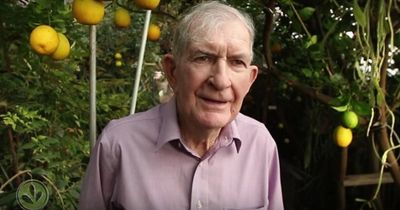 Russ Finch is the designer, owner, and creator of the Greenhouse in the Snow. He was born in 1932 and lives at home with his wife Darlene. Russ's greenhouse is attached to the back of his house, and it is truly magnificent. Over a period of 35 years, Russ designed and perfected his beloved greenhouse using low grade geo-thermal in order to produce citrus, fruits, vegetables, and many flowers all year round. In his greenhouse, he currently has hundreds of plants.
Seven years ago, in April of 2010, Russ approached Allen Bright at Antioch Machine, LLC, in Alliance, Nebraska, about manufacturing parts for his greenhouses. Allen happily agreed, and the first order was placed April 30, 2010.  The response from people was amazing, and the greenhouses started getting more and more attention. Allen was brought in on the deal and has been aiding Russ in manufacturing, selling, and delivering greenhouses ever since. 
Since 2013, we have sold about 90 greenhouses. Today, Russ shows his greenhouse and the greenhouse at Allen's house that is in the planting process, to people several times a week. The Greenhouse in the Snow business is blooming and flourishing.
In January of 2020, we licensed our product in Europe with Sascha Happe located in Brittany, France. We are thrilled to welcome him aboard. 
"Hi, I am Sascha and I have started a new adventure!
I am born in the Netherlands and have been working with dedication as a Service Manager for a high-end packaging machinery company for twelve years and needed a break. We (my wife and two daughters) decided to relocate to a beautiful countryside of Brittany in France and live a completely different life now, having transitioned towards a more organic lifestyle and minimizing our carbon footprint.
To reach our goals we have created an orchard and large vegetable garden based on the permaculture principles. We were also looking for a well designed and efficient greenhouse to extend our growing season without having to heat it with fossil fuels in the winter. That is how I found out about Russ and his great 'greenhouse in the snow' concept. When I learned that they were looking for someone to bring the concept to Europe, to be able to answer to the growing demand here, I straight away felt it was meant to be my next step. 
Creating my own company has been a long lasting dream. Realizing this with a proven concept that contributes to the energy transition using free available geo-thermal heat is in my opinion the way to go. Growing your own fruits and vegetables throughout the seasons in a very efficient way absolutely makes sense. 
Therefore I am proud to announce that Greenhouse in the Snow Europe has been established to support and supply European customers to build their own greenhouse in the snow. We will be able to use all learnings and experiences that Russ and Allen have gathered over the past 25 years. 
What else can you expect from me? Dedication and extended support to guide you towards realizing your project. 
For more information click on the link below: 
https://greenhouseinthesnow-europe.com/
or email to:
info@greenhouseinthesnow-europe.com. 
You can also give me a call at +33 7 6727 4104 or send me a WhatsApp